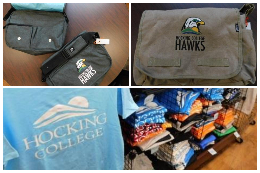 The Hocking College Bookstore has all the Hawk gear students need for the 2019-20 school year. Open Monday-Friday 8AM-4PM, students have the option to either purchase the items they need at the on-campus store, located outside John Light Hall or online.

Hocking College Bookstore is owned by Hocking College. This means that all the proceeds from their sales benefits Hocking College and its students.

Thanks to Hocking College's new all-inclusive pricing, all student textbooks and course materials will be provided to the students in their classroom. Therefore, they will not have any additional course materials to purchase at the bookstore, but that doesn't mean you shouldn't stop by.

The HC Bookstore offers clothing and gift items, paper, binders, and pens, along with bookstore gift cards. The campus bookstore carries everything from t-shirts, sweatshirts, and jackets, to polos, lounge pants and windshirts. Adult sizes range from small to 3XL and products include Adidas, Columbia and Under Armour.

The online store has items available for adults, toddlers and infants and alumni. Students will have the option to get select merchandise online using the primary Hocking College logo, athletics logo, or program-specific logos.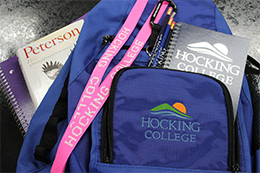 Specialty clothing items are available for coaches and students who enjoy golfing, fishing and hunting. Additionally, the bookstore offers collectibles, decals, flags, jewelry, and pet supplies.
The on-campus bookstore accepts cash, personal checks, VISA and Mastercard. Online purchases require a VISA or Mastercard, credit/debit cards

Occasionally the bookstore offers promotions on specific items. Currently they are running a 20 percent off special on drinkware through September 23rd, however, select items are cheaper to purchase in the on-campus store as opposed to online.
Return Policy

Hocking College's online bookstore has a 30 day return policy. If you are not 100 percent satisfied with your order, select a return reason on your packing slip and include it with the item in your package through a shipper of your choice.

When returning clothing students need to make sure the items have not been used or washed. A credit will be issued for the returned products within 10 days of receipt of the return. If an item is deemed non-returnable, students will be contacted directly directly. Also, If students have a defective product they should contact Customer Service for instructions at customerservice@advanced-online.com or 877-471-5410.

For more information on the Hocking College Bookstore contact Office Coordinator, Leeanna Potts at (740) 753-6188.