Paige McClain Ph.D. is the new Program Manager for Hocking College's Early Childhood Education program.

Born and raised in Albany, OH., Dr. McClain attended Alexander High School. Then she studied at Ohio University where she earned a bachelor of arts in psychology with a minor in sociology. She later received a master of education in special education, followed by a doctor of philosophy in curriculum and instruction in 2021.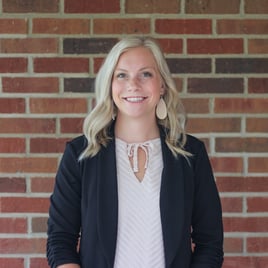 Dr. McClain's classroom teaching experience includes everything from an after-school elementary tutor position for AMICUS Learning Centers in Cincinnati, OH, to being a school-age camp lead teacher for Stages Early Learning Center in Athens, OH.
In addition to Dr. McClain's work in the classroom, she has also contributed to articles that have appeared in prestigious publications such as the Peabody Journal of Education and Action in Teacher Education, and worked on a variety of research projects while at Ohio University.
One particular research project she worked on at OU concerned a multi-college examination of the clinical teaching model's impact on student outcomes. Dr. McClain's supervisor on this project was associate professor Sara L. Hartman, Ph.D.
Dr. Hartman described her former research assistant as being someone who "is mindful of the unique experiences that children bring to each learning experience, and is committed to creating opportunities that are both engaging and empowering."
Dr. McClain's diverse background includes doing national presentations on subjects such as clinical models for educational partnerships and partner schools, and how clinically-based field research can impact learning outcomes and school culture.
One unique distinction that she feels will help her connect with her students: she's a first-generation college student. She specified that, "being a first gen has its own set of challenges, especially with figuring out the logistics of how college works and all of the moving parts that goes along with the many processes that happen."
Dr. McClain added that, "Because I was in that situation, I feel as though I will be able to relate to my students and potentially provide a mentoring role to my students, and support them in other ways aside from just succeeding in their courses."
More about this program…
Hocking College's Early Childhood Education program prepares students to become licensed and secure employment in the early childhood industry. In addition, this program provides students with the academic foundation they'll need to pursue a bachelor's degree.
Our smaller class sizes allow students to get more one-on-one time with their instructors as they cover the following core subjects:
Instructional strategies
Academic skills
General education & special education
Classroom management
Application of technology in the classroom.
Students who graduate from this program with an Associate of Applied Science in Early Childhood Education can expect the following outcomes:
Ability to effectively teach pre-kindergarten through third grade
Ability to assist in multiple educational environments
Effective classroom management skills
How to assist children with disabilities
How to uphold federal, district and agency policies and procedures
For more information on Hocking College's Early Childhood Education program contact Program Manager, Dr. M. Paige McClain by email at mcclainp@hocking.edu or by phone at 740-753-6514.