If you're a Hocking College student who has the will, but not the wardrobe, to enter the workforce, then you should visit the Career & University Center's Career Closet which opens today (April 30). Today's grand opening will include a fashion show in the main lobby of John light Hall from 3:30 p.m. until 5 p.m.
What is the Career Closet?
The Career Closet is a donation-based, on-campus store where students can shop for one (1) professional outfit free of charge.
According to the Career and University Center's Director, Danita Reynolds, the goal of this store is to "help students pick out a signal outfit that's interview appropriate."
She specifically noted that the purpose of this single outfit is to help students potentially get a job before they get their degree.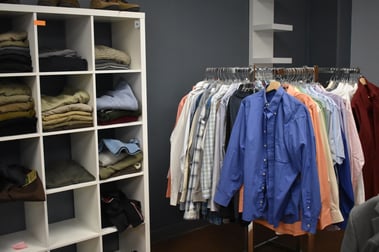 Reynolds added that the Career Closet will have a variety of items available that will be suitable for all Hocking College students regardless of their major.
In addition, the store will also have changing rooms where students can try on items before they take them home.
What Will be Offered at the Career Closet?
The Career Closet, which will be located in John Light Hall - Room 181, will have the following items of apparel will be offered at the Career Closet:
Shoes and belts
Dresses
Skirts
Blouses
Accessories (Jewelry, scarves, etc.)
Dress shirts
Business suits
Neck ties
Can Students Buy Additional Items From the Store?
No. The Career Closet has no plans to sell any store items on a cash basis, or allow any students to get more than one complete outfit.
What Hours Will the
Store be Open?
The Career Closet will be open Monday through Friday from 8 a.m. to 6 p.m.
Where Can I Make Donations?
If you have any career-oriented clothing you want to donate to the Career Closet, you can drop your items off at the Hocking College Career and University Center located in John Light Hall, Room 193.