Valentine's Day is right around the corner. If your New Year's resolution was to spend less or stick to a budget, or you just don't know what to get your better half, then this blog is for you!
We've rounded up several items that you can get that special someone in your life that will cost you no more than $25.
---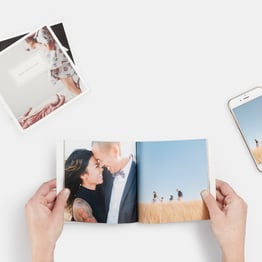 5x5" 30-Page Instagram Photo Book
Source: Artifacts Uprising
Export those cute photos of you two off your device & place them into your life. These softcover books feature a warm textured eggshell cover and 100% recycled interior pages with designs built to fit your Instagram images. The best part? You can connect directly to your Instagram feed — no uploading required.
Cost: $15
---
Dash Mini Maker Portable Grill Machine
Source: Amazon
Spend some quality time with your better half while cooking up some single-serve dishes. This Dash mini maker grill has a nonstick surface which allows you to perfectly cook and brown whatever it is you make, which can be made in less than 3 minutes. A recipe book is also included with the purchase.
Cost: $14.39 — $14.99
---
Travel Stub Diary
Source: Uncommon Goods
You'll never forget that summer concert or the cross-country road trip you took with your significant other with this handy Travel Stub Diary. You'll be able to relive those adventures & special moments again and again with this handy take-along album. The diary comes with clear sleeves to store your memorabilia including postcards, maps, brochures, ticket stubs, and snapshots; as well as space in the margins to jot down every detail.
Cost: $12
---
The Quiz Book For Couples
Source: Amazon
Put your knowledge to the test with this fun book of questions for your relationship. This book is broken down into sections with questions that each person answers individually, and then compares his/her answers with the other person. The person with the most correct answers wins that section and gets to chose from a reward given by the other person. Whether you're in a new relationship or have been married for 20 years, this gift is a fun way to see how well you really know your other half.
Cost: $11.90
---
Message In A Box
Source: Etsy
A unique gift for that special someone. Send a personalized message in this handmade, customizable box. A crossword puzzle with complimentary words is on the righthand side of the box, with an attached pencil to play.
Cost: $17.64 (includes shipping)
---
Our Moments - Couples: 100 Thought Provoking
Conversation Starters
Source: Amazon
This game was created for you and your partner to enjoy date night in a completely new way. The game consist of questions that are intended to make you open up and listen to what your partner is telling you. Whether you're in a new relationship or you've been together for years, this game allows you to interact and get closer to your partner.
Cost: $18.95
---
Plastic Polaroid Photo Fridge Magnets
Source: Etsy
Have a favorite photo of you two? Select four of your favorite photos and put them on these Polaroid fridge magnets. These magnets can be personalized with any photo and text you like.
Cost: $15.56 (set of 4 — includes shipping)
---
Share the Love With Hocking College This Valentine's Day
Share the love with Hocking College this Valentine's Day when shopping on Amazon Smile. By shopping on Amazon Smile and selecting the Hocking College Foundation as your charity of choice, you'll not only get the same great prices, but a portion of your purchase will be donated to the Foundation. Donations given to the Foundation go back in helping the students of Hocking College.