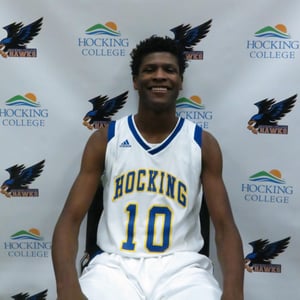 Hocking College Hawks Basketball Team member Azende Johnson was recently named National Junior College Athletic Association Division-III Player of the Week for Nov. 5-11.
Johnson scored 106 points in three games last week, shooting 64% and adding 25 rebounds and 16 assists. In the game against Lorain County Community College he also broke the Hawks' school record for points in a single game with 47.
In addition, he produced a triple-double vs Westmoreland County Community College of 32 points, 12 rebounds and 10 assists.
Currently, Johnson is listed 13th in the NJCAA D-III with a scoring average of 26.2 points per game.
In the same week. Johnson was also named the Ohio Community College Athletic Conference's D-III Player of the Week
A 2016 graduate of Walnut Ridge High School in Columbus, Ohio, Johnson is a freshman at Hocking College majoring in business management.
According to Hocking College's Business & Entrepreneurship Program Manager Micah Covert, "The Business Department faculty and advisors are all proud of Azende and congratulate him for being named Player of the Week. His talent on the court is impressive; importantly his respect and persistence in the classroom is equally impressive."