Becoming a fashion designer is the ideal career for anyone with both a sense of style and the stamina to meet the physical and emotional demands of the fashion industry.
Think you have what it takes? Read our 6 FAQs about working in the fashion industry and then tell us if you still feel that way in the comments.
Where do fashion designers work?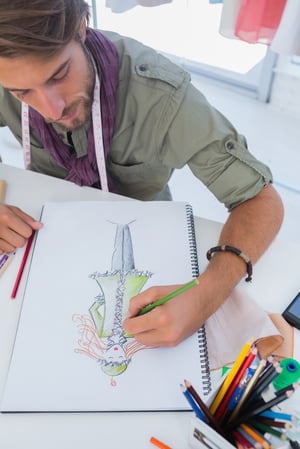 The majority of fashion designers work in-house for wholesalers or major clothing manufacturing companies. The wholesalers and manufacturers sell apparel and accessories to retailers. This merchandise is then distributed to individual stores, catalog companies, or online retailers.
Typically, instead of just hiring one designer large apparel companies employ a team of designers headed by a single creative director.
Self-employed fashion designers typically create high-fashion garments exclusively for private clients. In most cases, self-employed fashion designers have their own signature clothing line.
However, thanks to the Internet and e-commerce more and more independent designers are able to offer their garments to consumers from the privacy of their own homes. Now designers can ship their products directly to customers
Do fashion designers travel ?
Most professional fashion designers in the United States live in major cities such as New York, NY or Los Angeles, CA. However, at least twice a year all designers are required to travel to trade and fashion shows to learn about the latest trends and meet with suppliers and manufacturers.
what hours does a fashion designer work?
Typically, if a designer works for a wholesaler or manufacturer they work an eight-hour day. However, if they're in the final stages before premiering a collection they will more than likely have to work overtime.
On the other hand, self-employed designers are able to completely set their own hours. However the demands on their time will be far greater.
What are the duties of a fashion designer?
Stay informed and up-to-date on the latest fashion trends

Pick a theme each season and build their collections around that theme

Use computer-aided design (CAD) programs to enhance their designs

Visit manufacturers or trade shows on a regular basis

Experiment with different fabrics, colors and accessories to create a distinctive look for their collections

Create prototype/sample garments

Present and showcase their creations in fashion or trade shows

Market their creations to clothing retailers

Oversee every step of the construction process involving their garments
what are the different types of fashion designers?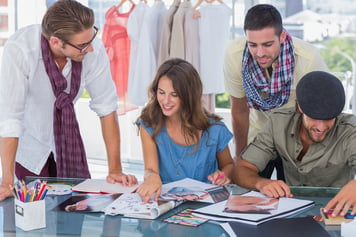 Some fashion designers specialize in clothing, footwear, or accessory design; others create designs in all three fashion categories.
Accessory designers

design and produce items such as handbags, suitcases, belts, scarves, hats, hosiery, and eyewear.

Costume designers

design costumes for the performing arts and for motion picture and television productions. They research the styles worn during the period in which the performance is set, or they work with directors to select and create appropriate attire. They also must stay within the production's costume budget.

Clothing designers

create and help produce men's, women's, and children's apparel, including casual wear, suits, sportswear, evening wear, outerwear, maternity clothing, and intimate apparel.

Footwear designers

create and help produce different styles of shoes and boots. As new materials, such as lightweight synthetic materials used in shoe soles, become available, footwear designers produce new designs that combine comfort, form, and function.
Where can I get the training I need to become a fashion designer?
Starting Autumn 2020, Hocking College will begin offering a new Fashion Design and Retail Merchandising degree. This program will offer students with a 2-year pathway to the vast fashion & retail industry in nearby Central Ohio.
The Fashion Design and Retail Merchandising program is strategically designed to deliver technical apparel development training, valuable product development & consumer research experience, entrepreneurial retail expertise, and industry-specific technology training necessary to succeed in the fashion industry now and in the future.
This degree program will prepare students to gain employment in creative or technical fields in the fashion industry at the corporate level, emerging small business level, or in entrepreneurship as a fashion based start-up.
For more information on this program contact Program Manager, Coral Wedel at wedelc@hocking.edu or (740) 753-6425.