Since 1976, every U.S. president has officially designated the month of February as Black History Month. The goal is to recognize the essential role Black people have played in shaping both the history and culture of the United States.
Also known as African-American History Month, the celebration was conceived by historian Carter G. Woodson and minister Jesse E. Moorland in 1915.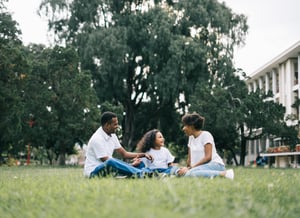 Half a century after the Thirteenth Amendment abolished slavery in the United States, the Harvard-educated Woodson, along with Moorland, founded the Association for the Study of Negro Life and History (ASNLH).
The organization's mission was to research, document and promote achievements made by Black Americans and other peoples of African descent.
The following year, Woodson launched the Journal of Negro History, in which he and other researchers brought attention to the achievements of Black Americans.
Then, in 1926, the ASNLH sponsored a national Negro History week. The time they choose to celebrate was the second week of February, which coincided with the birthdays of President Abraham Lincoln and social reformer, abolitionist, orator, writer and statesman Frederick Douglas.
This event inspired schools and communities nationwide to organize local celebrations, establish history clubs, and host performances and lectures that celebrated the African-American experience.
The following are several pivotal moments in African American history that deserve to be recognized.
1831: Nat Turner leads the only effective slave rebellion in U.S. History

1865: The 13th Amendment officially abolishes slavery

1867: The 14th Amendment broadens the definition of citizenship and grants equal protection under the U.S. Constitution to people who had been slaves

1909: The National Association for the Advancement of Colored People (NAACP) is founded

1920: A period of creative expression in art, music and literature from a black perspective known as the Harlem Renaissance begins

1947: Baseball player Jackie Robinson becomes the first player of color to break into the major leagues

1954: The case of Brown vs. Board of Education rules that segregation in public schools is a violation of the 14th Amendment

1955: Rosa Parks is arrested for refusing to give up her seat on a bus to a white man.

1963: Civil rights leader Martin Luther King Jr. delivers his historic "I Have a Dream" speech in Washington, D.C.

1965: The Voting Rights Act ensures protection for the voting rights of Black Americans.

1972: Shirley Chisholm becomes the first Black American and first female major-party candidate to run for president of the United States.

1986: Oprah Winfrey launches her media empire with her Chicago-based talk show.

2001: Gen. Colin Powell becomes the first African American secretary of state

2008: Barack Obama is the first African American to become president of the United States.

2013: The #BlackLivesMatter hashtag first appeared on Twitter.

2021: Kamala Harris becomes the first woman — and woman of color — to become vice president of the United States.