Since 1976, February has been designated as Black History Month. The purpose of this month-long celebration is to recognize the pivotal role African-American men and women have played in shaping the history of the United States.
One key figure in this narrative is Madam C.J. Walker (1867-1919), a haircare entrepreneur who became the first American woman to become a self-made millionaire.
She was born Sarah Breedlove on December 23, 1867, on a cotton plantation near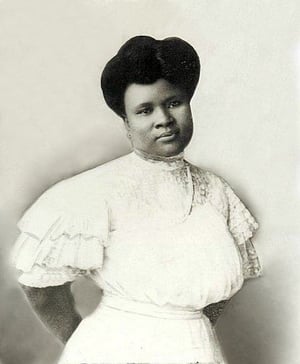 Delta, Louisiana. Her parents were recently freed slaves, and Breedlove was the first member of her immediate family to be born free.
When she was seven, Breedlove's parents died, leaving her an orphan. She was separated from most of her siblings and was sent to live with her married sister. Later, the family moved to Mississippi, where she made money by doing household chores and picking cotton.
In 1885, Breedlove married and had a daughter. Two years later, her husband died. She and her daughter moved to St. Louis to be near her brothers. There she worked as a washerwoman for $1.50 a day and attended a public night school.
During this period in her life, Breedlove met and married her second husband, Charles J. Walker, who worked in the advertising business.
In the 1890s, Breedlove developed a severe scalp disorder that caused her to lose much of her hair. As a result, she began to experiment with both store-bought hair care treatments and home-made remedies in hopes that they would restore her mane.
During this time, Breedlove became a commission agent for the Annie Turnbo Malone Company, which specialized in producing African-American hair-care products. The job required Breedlove and her family to relocate to Denver, Colorado.
In the meantime, Breedlove continued to perfect her own hair care treatment. Once her creation was ready to be marketed, her husband helped her create an advertising campaign that centered around her using the brand name "Madam C.J. Walker."
The couple traveled the south to try to promote her products and give demonstrations on how they could benefit her target audience.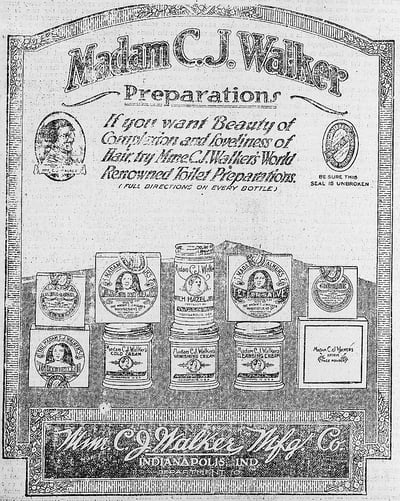 When the sales of Breedlove's products increased, the couple opened both a factory and a beauty school in Pittsburgh, Pennsylvania. Later, the business operations transferred to Indianapolis, Indiana, where the profits made Breedlove a very wealthy woman.
To give back to her community, Breedlove trained African-American women to become the traveling sales representatives for her products.
Consequently, these same women, who once made their living by performing menial household chores for very little money, were now able to support themselves and their families while exemplifying their employer's business philosophy: Cleanliness and Loveliness.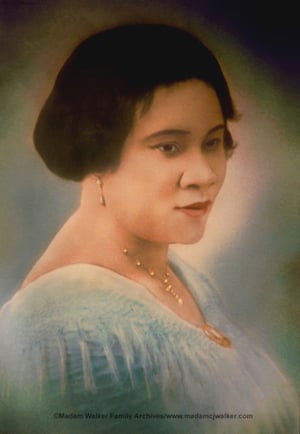 Breedlove also used her millions to found organizations that funded scholarships, contributed to homes for the elderly, the NAACP and built an Italianate mansion. She called it Villa Lewaro, and it became a gathering spot for many artists who became key players in the Harlem Renaissance.
Villa Lewaro also has the distinction of being the place where Breedlove died of hypertension on May 25, 1919. She was 51 when she died.
Although the manufacturing company that bore her name ceased operations in 1981, Breedlove's trailblazing efforts as a female entrepreneur have continued to inspire women all over the world to believe in themselves and to follow their dreams.
(Photos courtesy of Madam Walker Family Archives/A'Lelia Bundles.)
What kind of educational background does a budding entrepreneur need?
Overall, the educational requirements for becoming an entrepreneur are non-specific. However, having a good education will be essential to your success.
In conjunction, anyone considering becoming an entrepreneur would be advised to consider making one of the following subjects your major:
Accounting

Communications

Computer science

Finances

Graphic design

Business Law

Marketing

Psychology
Tell me more about Hocking College's Business Management and Entrepreneurship Program
Hocking College's associate degree program is designed to provide business and entrepreneurship-oriented training to both students who are new to the business world and established professionals who aspire to one day go into business for themselves.
The training students receive in Hocking College's Business Management and Entrepreneurship program prepares them for careers in the business management field. The program includes a practicum in an area business, industry or agency in addition to an optional internship or cooperative work experience.
With Hocking College's smaller class sizes students receive the crucial one-on-one time with instructors they'll need to develop business-related skills, like:
How to develop accounting records

How to make sound business-oriented decisions

How to understand the legal system as it relates to the business world

How to develop and implement appropriate marketing strategies

How to maintain high ethical standards in business dealings

How to assemble an effective team

How to use effective quantitative skills in business activities
What kind of jobs can I pursue with this degree?
Mid-level management position

Business consultant

Sales representative

Research and development officer

Non-profit fundraiser

Teacher

Recruiter

Business reporter
For more information on Hocking College's Business and Entrepreneurship program, contact Program Manager Rachel Jacobs by email at jacobsr@hocking.edu or by phone at (740) 753-6440.