When you think of football, what comes to mind? Do you think of the athletes and the physicality needed to play the game? Or do you think about the hard work and determination teams put into training for a season? You probably wouldn't think about a person with Down Syndrome playing football, scoring points for their team, and in the process, making history. But that is exactly what Hocking College football player, Caden Cox did.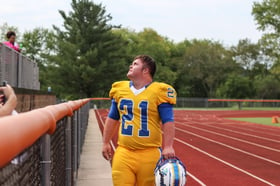 On September 11, 2021, during the third quarter of a home game against Sussex Community College, Caden was sent in to kick the extra point after the Hocking Hawks scored a touchdown. The team didn't realize Caden was kicking. Garrison Wheatly, the Offensive Lineman Long Snapper, was the only teammate that realized he was in. Wheatly snapped the ball, and Caden kicked a field goal scoring an extra point for his team. With that kick, he also made history as the first person with Down Syndrome to not only play in an NCAA or NJCAA college football game but also the first person with Down Syndrome to score a point.
His mom, Mari Cox, was in the stands that day cheering him on, and his dad, Kevin Cox, was the coach who sent him in. Caden had been super excited, ready for the chance to kick in a game. The Hawks Head Football Coach, Ted Egger, always believed Caden deserved to play football at Hocking College because he could kick.
Caden was born on June 7, 1999, with Down Syndrome. Mari and Kevin had learned their son would be born with Down Syndrome during an amniocentesis. Mari's first reaction was to figure out what it meant. Down Syndrome is the most frequently occurring chromosome disorder in the United States, causing intellectual and developmental delays. It affects close to 6,000 children yearly. People born with this genetic disorder have an extra chromosome, chromosome 21. To represent the disorder, all of Caden's football jerseys are number 21.
When Caden was little, his parents chose to focus on what Caden could do rather than what he couldn't do. He always did everything his older brother did, but without the anxiety or stress that sometimes people put upon themselves. Mari said when Caden did things, he went all in never self-conscious or worried about peer pressure.
His parents enrolled him in martial arts at two, and it quickly became his therapy. Over the years, Caden has participated in many extracurricular activities. He has a second-degree black belt in Taekwondo, many Special Olympic Medals, 8 State of Ohio Medals in swimming, he played percussion in band and was instrumental in starting the Inclusion Club at York High School in Yorktown, VA.
But everything wasn't always easy. Mari fought some battles to ensure that Caden had the same rights as others, even though he had a disability. She had to fight to keep him in their neighborhood school when school officials wanted to send him to a school for those with disabilities. She won, and Caden was able to attend the same school as his older brother.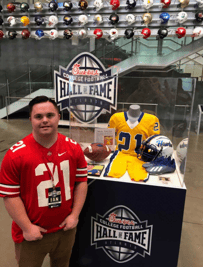 So, when the Historian and Curator for the Chick-Fil-A College Football Hall of Fame, Jeremy Swick, reached out to Mari requesting Caden's uniform to display, Mari was super excited about this opportunity for her son. She began to see this attention as an opportunity to show more and more people what someone with a disability can do and the importance of inclusion.
Jeremy had volunteered with the organization Best Buddies throughout college, and that experience made a lasting impression on him. "Equity is something I truly believe in and now try to incorporate." He saw Caden's story, which spoke to him, and knew he wanted to include him in the Football Hall of Fame displays. Jeremy is "a firm believer that football accomplishments should be celebrated at all levels."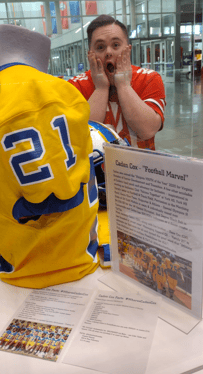 Over Spring Break, the Coxs went on a ten-day trip to Georgia, Louisiana, and Alabama. Their first stop was in Atlanta, Georgia, to view Caden's display at the Chick-Fil-A College Football Hall of Fame. As they walked in, they were immediately met with a huge three-story wall of Helmets representing over 775 colleges. They then saw Caden's display front and center. The display holds his Hocking College number 21 football jersey, helmet, pants, cleats, socks, a Hocking College football, and a QR code, where people can click to watch the ESPN interview and story of how Caden made history.
While at the Football Hall of Fame, their entire family enjoyed the interactive displays, and Caden got to kick. Caden then went on to kick at Georgia Tech, the University of Alabama, and the University of Louisiana Monroe. He was also a guest of the University Georgia Baseball Coach for the rivalry game between the Georgia Bulldogs and Georgia Tech.
For Mari Cox, seeing her son's football uniform encased in plexiglass was a surreal experience. She shed some tears, as any parent might do, but for Mari, this proved to her again that she was right to not listen to the people who told her Caden would never graduate from high school or be able to do anything. Instead, she and her husband instilled in Caden that he needed to work hard and focus to achieve his goals. His next goal is kicking for Ohio State University.
Caden's story is impacting so many people around the world. Mari has received many messages through social media stating how Caden's story is inspiring them. She now wants to use this opportunity to bring awareness to advocacy and inclusion for those people with disabilities.
Everything that's been happening to Caden since he made history proved to Mari that she was right all those years ago when she chose to ignore the people who told her that Caden would never be able to do anything because he had Down Syndrome. Caden has proved that he is kicking down barriers and will continue to do so.