If camping and horseback riding are activities you enjoy, then you should consider visiting Lake Snowden!
Located six miles southwest of Athens and one mile northeast of Albany, Lake Snowden is a 675-acre recreation park that first opened to the public in 1972, and purchased by Hocking College in 1998. It is now home to a variety of wildlife, a Hocking College owned and operated fish hatchery and the annual Pawpaw Festival.
How has Lake Snowden been impacted by the COVID-19 pandemic?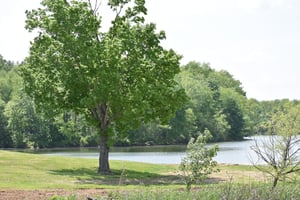 Due to the COVID-19 pandemic, all play areas (such as basketball and volleyball courts) are closed. This includes the shelter houses. These steps are part of Hocking College's ongoing efforts to prevent the spread of the virus. Hocking College will continue to align its recommendations with the guidelines from state and local health departments, the Ohio Association for Community Colleges and the Centers for Disease Control and Prevention.
Define 'Social Distancing'
In addition to actively washing your hands and covering your mouth when you cough or sneeze, the CDC recommends that one of the best ways to stop the spread of COVID-19 is by practicing social distancing.
According to the CDC, this practice involves "limiting face-to-face contact with others (as) the best way to reduce the spread of coronavirus disease 2019 (COVID-19). Social distancing, also called 'physical distancing,' means keeping space between yourself and other people outside of your home. To practice social or physical distancing, stay at least six feet (about two arms' length) from other people."
Health officials also recommend that when you're in groups of people, whether inside or outside, wearing face masks that covers both your nose and mouth is an effective way of reducing the spread of the coronavirus.
Camping options at Lake Snowden
Lake Snowden offers campers 125 campsites, 90 of which have electric and another 30 that are primitive. There are four different camping areas to choose from:
Locust Grove

Big Oak

Hickory Camp

Hilltop Camp (Offers hot showers and flushable toilets)
Campers have the option to choose from daily, weekly, monthly or seasonal camping, with rates ranging from $33 a day to $180 a week.
More about the Equine Camp and Trails
Locust Campground features 12.5 miles of trails designated for horses and a 25-site horse camping area. The sites handle recreational vehicles and horse trailers, with electricity on-site and water available in the campground. Tie-ups are also available. Rates for this area are the same for any overnight camping/day use and regular camping/day use; however, there is also an additional $3 fee per horse, per day.
To learn more about Lake Snowden's rules and the activities, please visit the park's website or email lakesnowden@hocking.edu.