When the COVID-19 pandemic struck, people all over the world were encouraged to take certain precautions geared to slow the spread of the virus.
In particular, people were encouraged to wear face masks that completely covered their nose, mouth and chin.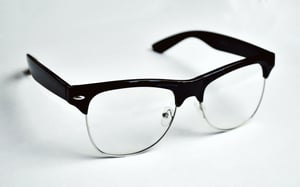 While studies have shown that wearing a face mask can help stop the spread of COVID-19, this particular precaution does come with a few annoying side effects — especially for people who wear eyeglasses.
As anyone who wears spectacles probably already knows, wearing a face mask often results in your glasses immediately fogging up and making it difficult for you to see clearly.
Can anything be done to help prevent this irritating after effect? According to optometrist and social media influencer Dr. Joseph Allen, you can avoid foggy lenses with the help of some easy-to-find items.
Based in Osseo, Minnesota, Allen is the CEO of Vision Excellence Eye Consulting and the host of the Doctor Eye Health YouTube channel.
He graduated Magna Cum Laude and Salutatorian from the Rosenberg School of Optometry in 2015, completed his residency at the Minneapolis VA through the Illinois College of Optometry in 2016 and became a Fellow of the American Academy of Optometry in 2018.
He is also an accomplished public speaker and social media influencer whose YouTube channel has more than 200,000 subscribers.
How does Dr. Allen suggest avoiding foggy glasses?
Allen suggests the following methods to prevent your glasses from fogging up while wearing a face mask:
Before you put your mask on, fold a facial tissue long ways, and place it across the top middle edge of the mask that covers the bridge of the nose. Then, while holding the tissue in place, put your mask on and breathe normally.

After putting on your mask, take a strip of hypoallergenic surgical tape and place it across the top middle edge of the mask. Leave enough of the tape showing so that you'll be able to bind it securely to your nose.

Once your mask is on, layer an adhesive bandage over the top middle edge of the mask to bind it to your nose. Once the adhesive bandage is securely in place, put your glasses back on and breathe normally.
And while you're on YouTube, be sure to check out Hocking College's channel.
Hocking College's official YouTube channel debuted on August 9, 2017. Currently, the channel has more than 100 videos that fall into the following categories:
Tutorial Videos
Life at Hocking College
Program Spotlights
Alumni Spotlights
Hocking College Athletics
Students Spotlight Series
How can I subscribe to HC's YouTube channel?
Go to

the Hocking College YouTube Channel.

Click the red "SUBSCRIBE" icon located on the right-hand side of the page.

Log into your YouTube account if you're not already.