It was an abbreviated spring season, as anticipated, due to COVID-19 protocols around the country, but the Hocking College Hawks completed a three-game spring season with a record of 2-1 and statistically displayed the nation's best defense. In fact, the Hawks currently rank first in the NJCAA allowing just 85.7 yards per game. The defense was tops in rushing defense (41.4 ypg) and passing defense (44.3 ypg).
Hocking is ranked second in the NJCAA in scoring defense, allowing just 12 points in the three games for an average scoring defense of 4.0 points per game (ASA Miami has only allowed six points in two games avg. of 3.0 ppg).
Hocking College's strong defense also picked off five interceptions in its three games, tying for eighth in the NJCAA, and collected 19 sacks which tied for seventh-best in the NJCAA. But on a per-game basis, the Hawks defense led the NJCAA with 6.33 sacks per game.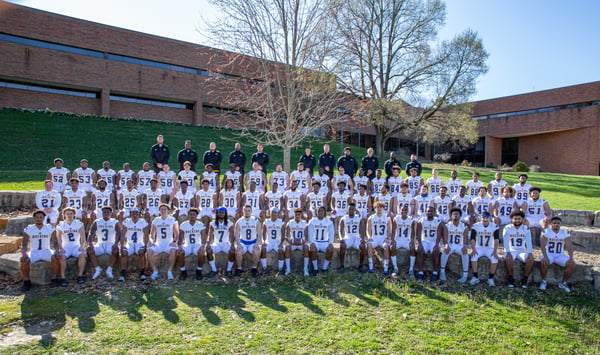 Offensively, the Hawks rank twelfth in the NJCAA with a running offense that produced 183.3 rushing yards per game. The offense's 10 touchdowns are tied for seventh-best among NJCAA schools
Individually, Hocking sophomore defensive back and punt returner Syncere Jones is the number one punt returner in the NJCAA with an average of 19.1 yards per punt return (on eight returns).
The Hawks concluded the spring season on Saturday, April 24, with a 25-0 shutout of Sussex Community College on a neutral site in Erie, Pennsylvania. Hocking amassed 296 yards on offense (183 rushing and 113 passing) while limiting Sussex to 52 yards of total offense.
Freshman linebacker Shaun Myers led the defense with 11 tackles, including 1.5 tackles for loss, half of a sack, and one fumble recovery. Hawk freshman quarterback Peyton Madison completed 5-of-13 passes for 113 yards.
Hocking football will compete this autumn in a traditional full season starting Sept. 4 at Erie Community College. The Hawks' home opener is set for Sept. 11 against Sussex Community College.