The Hocking College women's volleyball team hosted a tri-match on Saturday, Feb. 6, and split the weekend overall 1-1.
The Hawks were swept in the season opener against the Clark State Eagles but were victorious in their match against the Boyce College Bulldogs.
The Hawks set four school records during the weekend and broke their 67-game losing streak thanks to their win over Boyce College.
Freshman setter Emily Aiello took over the assist record with an average of eight assists per set against Boyce.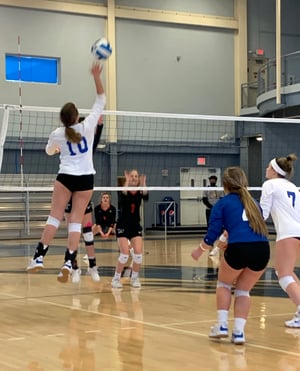 Sophomore outside hitter Mauricea Crouch is the new kill per set leader with an average of 3.67 kills. The 2021 spring roster set the new team records for aces per set at 2.33 and kills per set with 11.34.
The Hawks take on Kent State-Tuscarawas and Terra State Community College on Feb. 14. Both matches take place at the Hocking College Student Center located on the Hocking College Campus in Nelsonville.
Spectators are not allowed due to coronavirus restrictions, but the matches will be live-streamed on the Hocking College YouTube channel.