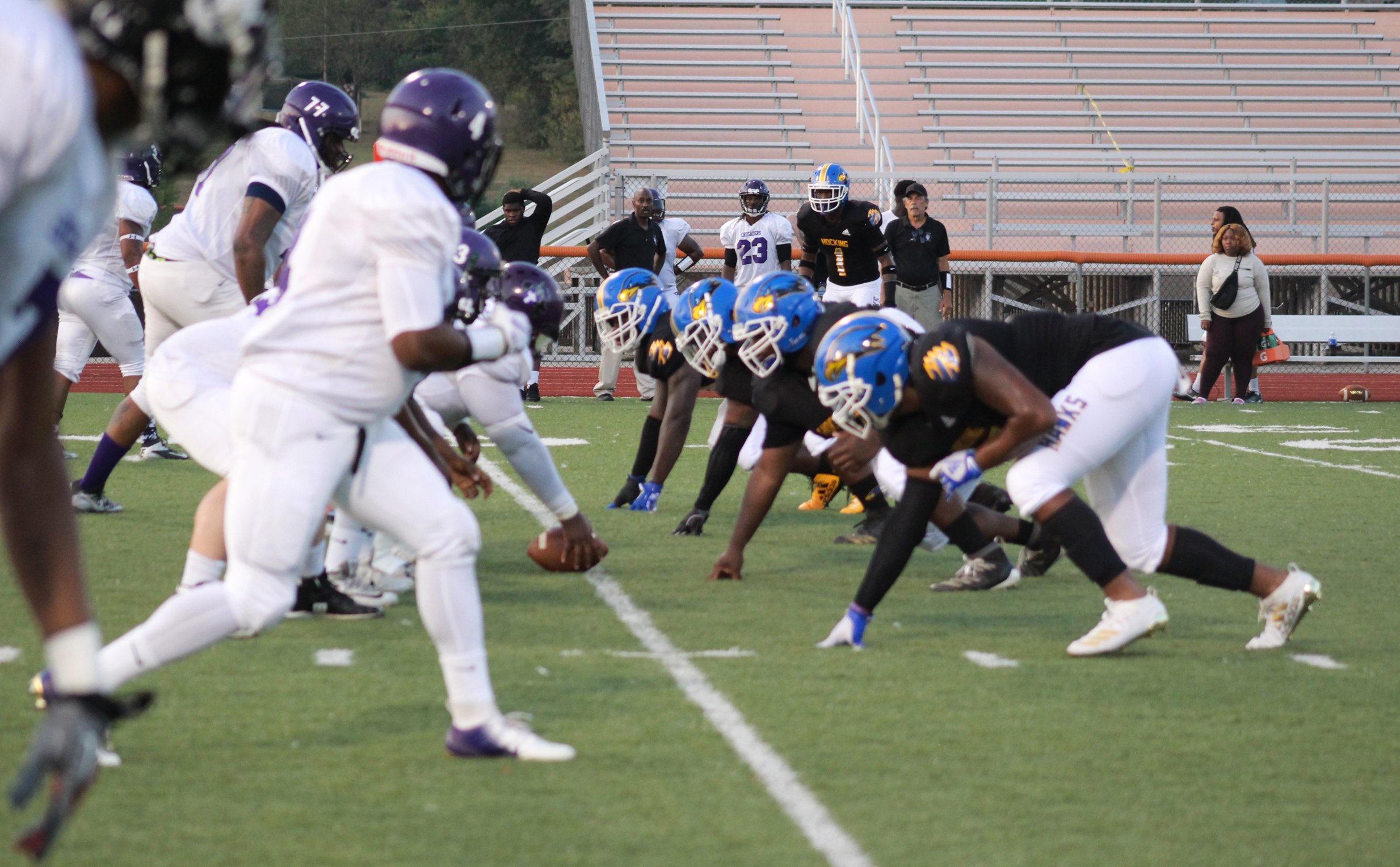 Nelsonville, OH -- Under the lights and sporting new black uniforms, the Hocking College Hawks football team (3-1) started fast and furious as they shutout Haywood Crusaders (2-3), 66-0. The 66 points are a school record for points in a game and margin of victory and the shutout is the second one in school history. Haywood was short-handed with only 16 players on its roster.
The Hawks started the game on a school-record 68-yard touchdown pass from Tony White lll to Trenton Bridenthal as the Hawks would take the early lead. White lll would connect with Dae'Mon Cherry for a 12-yard scored. The Hawks defense added a safety to make the score 16-0. Just 25 seconds later, White would connect with Ja'kari Salter for another touchdown to make the score 23-0 at the end of the first quarter.
It only took eight seconds before the Hawks would score in the second quarter, as White lll would find Shawn Smith for a 12-yard score, increasing the lead to 29-0.
The defence would get involved too, as Heshimu North would pick off Haywood's pass and take it to the house for a "pick-six" to make the score 42-0. Andre Chandler would also have an interception.
Ciree Carruthers would run for a 16-yard touchdown and Bridenthal would catch another touchdown pass, this onefor 31 yards.
Haywoods quarterback would be hit and fumble in the endzone which was recovered by Hocking's Rexton Nowa for his second touchdown of the night.
At halftime, Hocking led 63-0. The 40 points scored in the second quarter are a school record for points in a quarter and the 63 points in the first half are a program record for points in a half. and would sit third all time if the game would have ended.
Hocking would add a fourth-quarter, 23-yard field goal by Chance Myers to make the final score 66-0.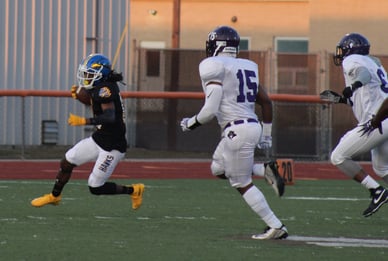 The Hawks were led by Tony White lll who was 11-of-13 passing for 190 yards and five touchdowns (tied for second in program history).
Michael Lawence topped the Hawks in rushing with 42 yards on five carries.
Trenton Bridenthal paced the Hawks in receiving with three catches for 108 yards and two touchdowns.
Dae'Mon Cherry added three catches for 22 yards and a score.
Jakari Salter caught two passes for 19 yards and a score.
Chance Myers went six of nine in extra points and added one field goal. He also had nine kickoffs for 550 yards with two touchbacks.
As a team, Hocking recorded 17 first down, 357 yards of offense. The defense, recorded two sacks, six tackles-for-loss, three interceptions, forced six fumbles and a notched adefensive touchdown. Hocking had 11 penalties for 120 yards. Haywood managed only 32 yards of offense and -22 yards rushing,
The Hawks' next game will be on October 5th when they host #10 Georgia Military College (4-1) at Nelsonville-York HS, Kickoff is set for 1pm.
--
By Trevor Stephens
Hocking College Athletics