NELSONVILLE, Ohio—March 30, 2020—As the coronavirus pandemic pushes hospital supplies to the limit Hocking College is answering the call to help.
Staff from all the college's schools gathered personal protective equipment — equipment worn to minimize exposure to hazards that cause serious injuries and illnesses — that would normally be used by students and staff so it could be donated to help medical professionals respond to the growing public health crisis.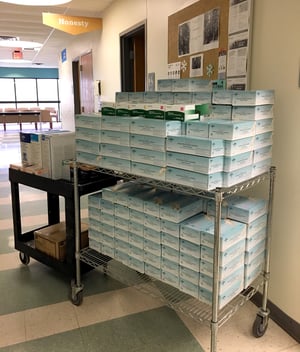 Dr. Anne Loochtan, dean of the School of Health and Safety, said the equipment included about 33,000 gloves, sanitation supplies like wipes, procedural masks and 130 N95 masks — the type health experts say is most effective in preventing healthcare workers from inhaling the new coronavirus while working with patients.
The Ohio Department of Health is urging anyone with personal protective equipment that could help healthcare workers to donate their extra supplies.
During a daily press conference with Gov. Mike DeWine last week, Ohio Department of Health Director Dr. Amy Acton said hospitals are conserving masks and other personal protective equipment. She cited one hospital that has moved patient IV stands into the hallway outside the patient room so staff doesn't have to "gown up" to check IVs.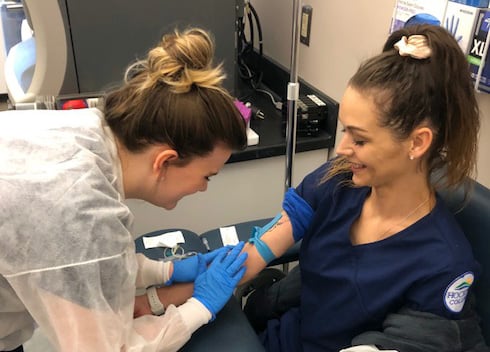 Loochtan acknowledged the supplies would be used quickly, but said every donation helps.
While Loochtan said the college will have to replenish those supplies before in-person classes resume but she said the main concern right now is the health crisis.
Hocking College is also teaming up with Jackie O's to create hand sanitizer at college's distillery in New Straitsville and before the state's stay-at-home order went into effect donated 95 meal packages to The Hive of Nelsonville. The college is also connecting OhioHealth with partners to provide them with access to 3D printers to create nursing devices.
Loochtan — who's worked in the medical field for 51 years in various clinical and non-clinical roles — said she's never seen anything like the current pandemic.
"This is pretty unprecedented," she said. "Over the years we've had drills, but it's never real until it's real."
Loochtan said she remembers years ago when an accrediting organization introduced disaster preparedness into their required standards. The pushback was swift and strong.
"This is an example of why it should be in the standards," she said. "I hope they get put back in."
Loochtan said that more important than any equipment donation is for people to stay home.
"With this particular disease, social distancing is absolutely critical — that and good hand hygiene," she said.
Are you interested in a career in healthcare?
With more than ten healthcare related programs and certificates, Hocking College offers students many ways they can help their communities in times of need. Explore all of our programs on the majors page or check out some of the programs below: