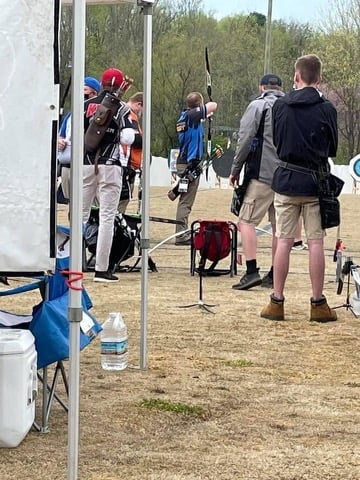 Hocking College's Cole Luburgh recently won the South Carolina regional championship, while setting a national record.
To appreciate the magnitude Cole Luburgh's win we'll take a quick primer on the way competitive archery is contested.
Cole first shot two qualifying rounds with 360 points available for a total of 720 possible points from both rounds.
On a previous day of competition, he shot a 301 and a 284. He beat the next placement by 87 points in a division with 14 competitors.
That put him into brackets for the second session in first seed. He received a first-round bye and faced three matches with other seeds to win 6-0, 6-2 and 6-0 respectively. These are head-to-head rounds and the physical and mental game definitely takes a toll. Cole took the gold medal.
Luburgh set a national record with his Barebow score being the highest collegiate score ever shot in competition.
He continues on to nationals later in the year.
Luburgh is on his own time and own dime. Hocking College is very proud of him and the job what he's done. Luburgh graduates this year.