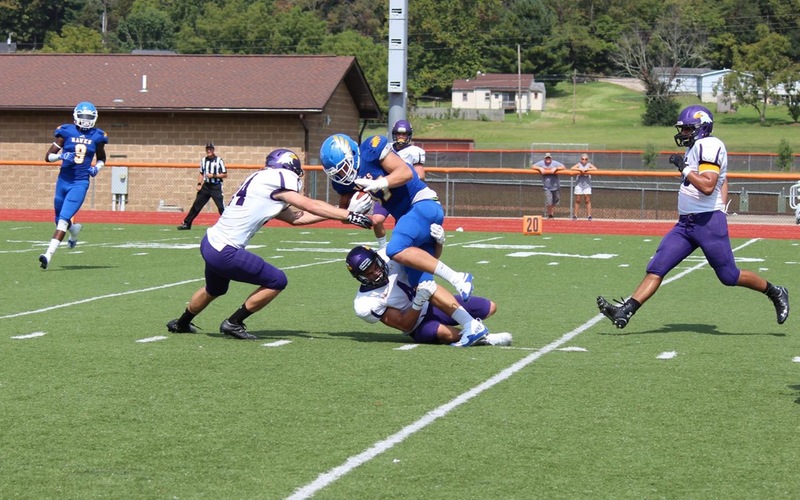 NELSONVILLE, OHIO -- Hocking College Football played host to Ashland University's JV squad for the first time in the history of the program. Coming into Sunday match up the Eagles had controlled the series beating Hocking in both of their previous match ups. The Hawks knew it would be a tough battle and preparation was the key to their success.
The Hawks came out strong scoring the first quarter of the game and set the tone early scoring 20 unanswered points in the first quarter alone. Their first scoring drive came just three minutes and ten seconds into the game on a 1 yard Touchdown run by Antoine Allen. The next scoring drive was capped by an 18 yard pass from Mikale Clark to Anthony (AJ) Caldwell with 5:48 remaining in the quarter. Then just four minutes later Mikale Clark connected on a 25 yard pass to David Moore for 25 yards and another Touchdown.
Hocking continued their dominance in the second quarter striking with just 3 minutes and 19 seconds gone in the quarter on a 53 yard pass from Mikale Clark to Evan Pierce for a Touchdown and a two point conversion from Mikale Clark to Kevin Greenhow to give Hocking a 28-0 lead. Ashland was able to strike back in on their own 53 yard pass to end the first half with a score of 28-6 in favor of the Hawks.
Hocking kicked off the second half with a strong third quarter as they put up two more scores to reclaim the momentum and put Ashland to bed early. The first of those scoring drives was capped by 35 yard pass from Mikale Clark to Kevin Greenhow for a Touchdown, followed by a 4 yard pass from Mikale Clark to Khalil Stewart to round out the third quarter scoring, giving Hocking a commanding 41-6 lead at the end of the third quarter.
In the fourth quarter the Hawks continued their dominance scoring two more Touchdowns. Antione Allen took a hand off from Mikale Clark for a 2 yard scamper into the end zone for his second Touchdown of the day. The final scoring drive was capped by a 47 yard Touchdown from Mikale Clark to Shae'ahn Lee as Hocking College went on to defeat Ashland University JV 53-20.
Hocking College dominated the Eagles in nearly all facets of the game. The offense racked up a total of 471 total yards on 61 plays from scrimmage. Mikale Clark was 20-30 for 368 yards through the air and only 1 interception. He also carried the ball 5 times for 18 yards.
Antoine Allen lead the ground game for the Hawks carrying the ball 13 times for 38 yards and 2 Touchdowns. Preston Smith, Evan Pierce, Hesus Himes, David Moore, and Denis Smith all had touches as well.
The air game was lead by Evan Pierce with 4 receptions for 83 yards and a Touchdown. Kevin Greenhow, Shae'ahn Lee, David Moore, and Anthony (AJ) Caldwell all had Touchdown receptions as well.
Hocking's defense played exceptionally well as they were able to create 2 turnovers (a fumble recovery for Zack Page and an interception by Khalil Stewart) and only giving up 20 points. Vanden Vicsotka lead the Hawks with 4 solo takles followed by Khari Golden with 3 solos.
The Hawks will return to action next Saturday, September 23rd as they take on the Lions of Georgia Prep Sports Academy at home for Homecoming. Come out and join us for all the fun and festivities!