Meet Kelly Barron-Holcomb, the program manager for Hocking College's Water and Wastewater Management program!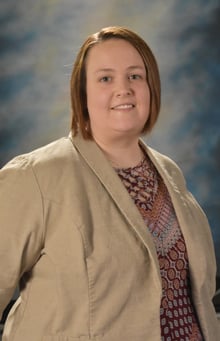 Barron-Holcomb is from Hocking County and attended Logan High School. Her original career choice was to become a meteorologist. However, after graduation, she enrolled at Hocking College and pursued an associate of Individualized Studies with the intent of transferring to a four-year school. While at Hocking, Barron-Holcomb also earned an Associate of Applied Science in Industrial Ceramics. Afterward, she transferred to the University of Findlay to complete her bachelor of science in Environmental Safety and Health Management.
Initially, Barron-Holcomb didn't plan to become a water treatment plant operator. She was intrigued at the prospect of having a civil service-based job that centered around protecting the environment. However, once she started looking for a job, an opportunity to follow this career path essentially found her.
The water and wastewater industry is dominated by men. While an environment like this could be challenging for some women to enter, Barron-Holcomb said her experience entering the industry was a positive one.
"The guys that I worked with were great," she recalled. "They treated me just like they treated anyone else."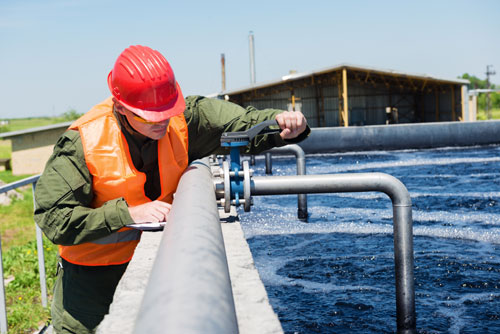 Barron-Holcomb believes that how well women are accepted in the field truly depends upon the culture of the employees at the treatment facility.
With no previous experience in the profession, Barron-Holcomb had to rely on her background in math and science, and the fact that she considers herself to be someone who was "fairly mechanically inclined."
Most of her training was on the job. While working as an operator, she took several correspondence courses related to drinking water treatment. Her basic job duties included monitoring the treatment plant, adjusting flows as needed, backwashing softeners and filters, adjusting treatment chemicals as needed, and running laboratory tests to ensure the quality of water that was being pumped to customers. The plant where Barron-Holcomb worked required coverage on a 24-hour basis. Starting out, she worked a swing shift in which she worked one day, two afternoons, and two midnight shifts each week, and later moved to the afternoon shift. Her starting pay was around $15 an hour, but, by the time she left her position she was earning a little more than $25 an hour.
While working as an operator, Barron-Holcomb returned to the University of Findley to complete a Master of Science in Environmental, Safety and Health Management and certificates in Environmental Management and Emergency Management.
After working nine years as a drinking water operator, three years at an ion exchange plant and six years at a reverse osmosis plant, Barron-Holcomb recognized the need for a different type of educational program that would meet the needs of the drinking water and wastewater treatment fields. In 2014, she began teaching environmental science as an adjunct instructor at Hocking College. Then in 2017, she became the program manager for Hocking College's newly formed Water and Wastewater Management program. Hocking College had previously offered a couple of related programs over the years, but not one solely dedicated to drinking water treatment and wastewater treatment.
Barron-Holcomb describes the program as one that was, "created by an operator for operators," and that has been the driving force behind every aspect of the program from the proposal stage, to developing the curriculum. She designed and implemented the program with the following benchmarks in mind:
To provide current operators with the opportunity to continue their education through earning a degree or certificate, which can lead to advancement in the workplace.

To recruit and educate the next generation of operators.

To prepare students to sit for the Ohio Environmental Protection Agency certification exams.

To provide certified professional operators with an alternative opportunity to earn contact hours.
One benefit of enrolling in the program is that the Ohio EPA recognizes the associate degree in Water and Wastewater Management from Hocking College as an equivalent to a bachelor's degree. Thus, students who graduate from this program will be eligible for a reduction of their required experience time for a Class II and Class III certification. Also, since a degree is not required to become an operator, students who graduate from HC's program will have an edge over their competition in the job market.
In Spring 2022, the program Barron-Holcomb developed celebrated its five-year anniversary. She advises students who might be on the fence about enrolling in her program that, "the drinking water treatment and wastewater treatment fields are very secure fields to enter into, and there are jobs all across the country."
"Operators have a good income and benefits, and have the opportunity to retire at a relatively young age with good retirement benefits," she added.
More importantly to Barron-Holcomb water and wastewater operators are essential workers.
"Operators are on the front line of protecting public health and the environment," she said. "No water operators equals no safe drinking water. No wastewater operators equals no sewage disposal. Both of which can lead to serious disease outbreaks.
Perhaps the best illustration of her point was the COVID-19 Pandemic. During this crisis, Barron-Holcomb led the COVID Wastewater Monitoring project at Hocking College. She and her team took wastewater samples twice a week from the Hocking College dorms and sent them for analysis to see if an outbreak of COVID-19 had begun in the residence halls. The data was then reported to the college's COVID response team who determined the next steps Hocking College needed to take to protect their students and community.
To find out more about Hocking College's Water and Wastewater Management program, contact Program Manager Kelly Barron-Holcomb at one of the following: