On Sunday, July 4, 2021, the United States will be celebrating its 245th birthday!
Also known as Independence Day, this holiday commemorates the passage of the Declaration of Independence by the Continental Congress on July 4, 1776.
In April 1775, the Revolutionary War officially began. At the time, not many colonists were in favor of the 13 colonies breaking their political ties with Great Britain. However, by the following year, more colonists were in favor of their budding nation gaining and securing its independence.
Many historians believe their change in attitude was largely influenced by the pamphlet "Common Sense" written by Thomas Paine.
In the pamphlet, Paine detailed why the time had come for the colonists to rise up and strike out on their own — without any interference from Great Britain. He presented his argument in a manner that was so logical and convincing that he managed to gain support from both influential politicians and everyday citizens.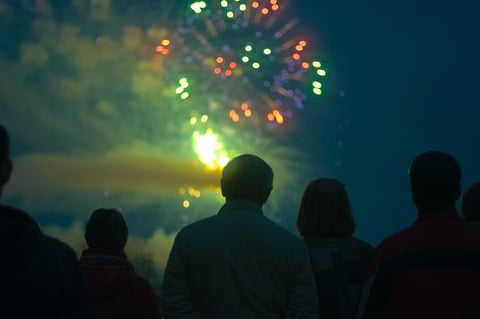 Introduced on July 2, 1776, the Declaration of Independence formally proposed the separation of the 13 North American British colonies from Great Britain, as well as the colonists, desire to start choosing their own leaders and form of government.
Primarily drafted by Thomas Jefferson, the document clearly stated the Continental Congress's main objective: to have the colonies now be looked upon as independent states.
Nearly a month after it had been adopted, the Declaration of Independence was officially signed on August 2, 1776. The signed parchment copy of this historic document now resides at the National Archives Museum in the Rotunda for the Charters of Freedom, alongside the Constitution and the Bill of Rights.
Congress established Independence Day as a holiday in 1870; it became a federal holiday in 1941.
How can I celebrate July 4, 2021?
On July 4, 2021, the annual Thunder In The Valley fireworks display will be held on Hocking College's Nelsonville campus.
The Nelsonville Division of Fire is selling VIP tickets for the event. VIP vehicle parking passes can be purchased for $10. If you prefer to walk to the fireworks, you can purchase a VIP walk-in pass for $3 per person.
Anyone planning on attending can arrive as early as 5 p.m. Although no official time has been designated for the fireworks display to begin, the show is scheduled to end by 11 p.m.
Parking will be available on a first-come, first-served basis. No parking will be permitted on Hocking Parkway or State Route 691. Alcoholic beverages are not permitted on the Hocking College campus.
The show can be viewed from most areas of Nelsonville as it lights up the hills of Southeast Ohio.
Anyone needing more information about this event can contact the Nelsonville Fire Department at thunder@cityofnelsonville.com or 740-753-1244.
More about Hocking College
First chartered by the Ohio Board of Regents in 1969, Hocking College is a community college in Nelsonville, Ohio. Currently, Hocking College offers over 50 associate degrees, vocational, and certificate, programs. The college is also accredited by the Higher Learning Commission and offers majors in the following categories:
Allied Health & Nursing

Arts, Business & Science

Natural Resources

Public Safety

Workforce Development
Hocking College offers students the hands-on job experience they'll need to excel in their chosen field.
Also, Hocking College's Career and University center offers students the chance to participate in professional workshops, career fairs and etiquette dinners. They're also offered advice on writing resumes, job search techniques, interview strategies and proper interview attire.
To find out more about Hocking College's easy three-step admissions process here.
Prospective students can also contact the HC Admissions Department directly at one of the following: