NELSONVILLE, Ohio—Kim Ephlin took a short break to celebrate a significant milestone, but then it was back to work for the Laboratory Sciences: Medical program manager at Hocking College.
"I'm very excited," Ephlin said. "It's been a lot of work to get all of that done, but it's worked out."
The "that" she was talking about is the program's new status with the National Accrediting Agency for Clinical Laboratory Sciences.
In late-March, the college was notified that the program had reached "serious applicant status" — the ninth in a 12-step path toward full accreditation.
"It's a very long application process," Ephlin said. The process began in early 2018, months before the first students even started attending classes that fall. The next big step in the accreditation process for the program is a site visit by the NAACLS. Ephlin said that the visit will be in the fall but hasn't been scheduled yet.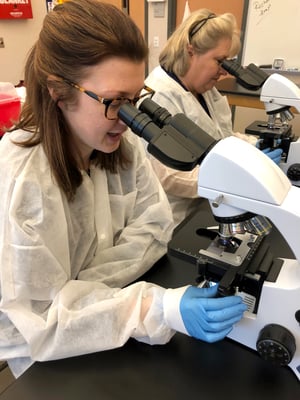 "After the visit, they'll give their recommendation for how long the program will be accredited for before the next accrediting cycle," she said.
With the new serious applicant status, the program's graduates will be eligible to sit for the American Society of Clinical Pathology Board of Certification's Medical Laboratory Technician exam.
This summer, the first two students will graduate with associate degrees from the program.
Ephlin said most graduates in the program would work in hospital laboratories. Some could end up in reference or private labs working as medical laboratory technicians examining blood and bodily fluids, fulfilling tests ordered by doctors. On either route, they'll need an ASCP MLT certification.
The program can also be a jumping-off point for people who want to further their laboratory science education.
"That's actually how I started out," Ephlin said. After earning her associate degree, Ephlin worked full-time in a lab. After a year, she started taking a full load of classes to get her bachelor's degree in laboratory science while continuing to work full-time in the lab. A few years later, after working in education, she decided to get a master's degree in healthcare administration with a higher education concentration.
"There are lots of ways to go once you get your bachelor's degree," Ephlin said, adding that students can go as far as getting a doctorate in laboratory science.
Students in Hocking College's program are also eligible to become certified phlebotomy technicians through the National Healthcareer Association after their first year.
The program also involves clinical work that students must complete in a professional laboratory before they can graduate. Ephlin's established partnerships with labs where students can go to complete their training, including at:
IS BECOMING AN MLT THE RIGHT CAREER FOR YOU?
Medical laboratory technicians are the laboratory's generalists. They are trained in a two-year associate degree program at a community college, hospital, trade or vocational school, and work under the supervision of pathologists or laboratory technologists/scientists.
The U.S. Bureau of Labor Statistics projects that the employment of medical laboratory technicians and scientists will increase by 16% through the year 2024.
What primary tasks do MLTs perform?
MLTs determine how a patient's organ systems are functioning by analyzing their proteins and enzymes.
MLTs use blood cells to assess if a patient has a bacterial or viral infection, leukemia or anemias.
MLTs examine the following microorganism area: bacteria, fungus, parasites and viruses to determine which one of these may be responsible for an infection.
MLTs help determine a patient's blood type, which can minimize risk factors posed by a transfusion.
How in-demand are MLTs?
There's currently a nationwide-shortage of working laboratory professionals.
According to the latest bi-annual survey performed by the American Society for Clinical Pathology, laboratory professions are seeing a range of vacancy rates, from about 5% for anatomic pathology departments to roughly 9% for chemistry departments.
More about Hocking College's MLT Program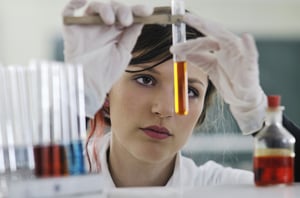 Students who enroll in Hocking College's medical lab technician program can obtain their Associate of Applied Science in Laboratory Sciences in only two years. The program provides students with the skills they need to collect samples and perform tests to analyze blood and bodily fluids. Students also participate in practicums at local medical laboratories.
For entrance into Hocking College's MLT program, students need a high school transcript or GED, complete both the first semester courses and the TEAS V exam, a physical and have up-to-date immunization and vaccinations.
Some of the other requirements prospective students need to meet are:
Orientation session
Drug screen
Background check
Complete core curriculum with at least a 2.5 GPA
If you want to find out more about the program, contact MLT Program Manager Kimberly Ephlin, MHA/ED, MT (ASCP), RMA (AMT), MA: