Since Nov. 2, 1986, Dr. Martin Luther King Jr. Day has been celebrated as a national holiday on the third Monday in January. On this day, our nation celebrates King's life and legacy as a revered orator, minister and voice of the modern American Civil Rights Movement.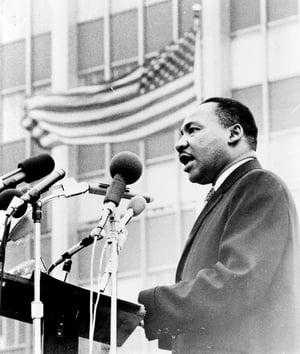 The son of a Baptist minister, King was born on Jan. 15, 1929, in Atlanta, Georgia. At the age of 15, he graduated from Booker T. Washington High School and was admitted to Morehouse College.
After earning his bachelor's degree in sociology, King pursued a doctorate in theology at Crozer Theological Seminary in Upland, Pennsylvania, and later at Boston University, where he completed his graduate studies.
At 19, King was ordained into the Baptist ministry.
While in Boston, King met his future wife, a music student named Coretta Scott.
Inspired by Mohandas Gandhi's teachings, King led a series of nonviolent protests that challenged segregation in the South. Perhaps the most famous of these protests was the Montgomery Bus Boycott in 1955.
These protests were a response to the arrest of Rosa Parks, who was fined for refusing to give up her seat on a public bus to a white man. King's involvement in this incident propelled him to become the virtual voice of the modern civil rights movement.
Nearly a year later, on Nov. 13, 1956, the U.S. Supreme Court ruled that laws requiring segregation on public buses were unconstitutional.
Unfortunately, his involvement in these protests resulted in King being arrested, having his home was bombed and subjected to verbal and physical abuse. Instead of being discouraged, King continued to speak out against inequality and injustice regardless of the consequences.
In 1963, King joined forces with activists in Birmingham, Alabama, who organized a series of lunch counter sit-ins and boycotts of local merchants in opposition to the city's segregation laws.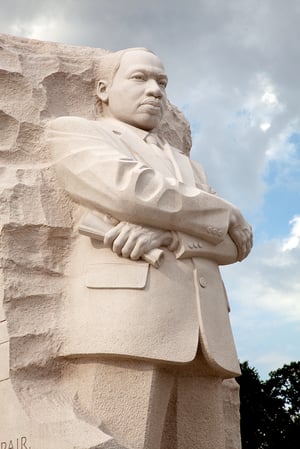 Eager to silence these demonstrations, the local police force used fire hoses and police dogs to subdue the nonviolent protesters. This resulted in a public outcry that got the attention of then-President John F. Kennedy.
In turn, Kennedy proposed legislation that would eventually become the Civil Rights Act of 1964.
During the Birmingham protests, King was arrested and put in jail for 11 days. This experience motivated him to compose one of his most celebrated works, "Letter from a Birmingham Jail."
In this open letter, King addressed his fellow clergymen, who had categorized the demonstrators' actions as "unwise." He details how all human beings have a moral and spiritual obligation to speak out against prejudice.
King is perhaps most remembered for the peaceful march he led on August 28, 1963, in Washington, D.C. This event consisted of a mile-long march from the Washington Monument to the Lincoln Memorial's steps to coincide with the 100th anniversary of the Emancipation Proclamation's signing and highlight the continued racial inequality in the country.
During the event, King delivered his famous "I Have a Dream" speech in front of about 250,000 people.
The following year, King became both the youngest man — and the second African American man — to be awarded the Nobel Peace Prize and was named Time Magazine's Man of the Year.
King was in the planning stages of the Poor People's March to Washington in 1968 when he was asked to support sanitation workers striking in Memphis, Tennessee.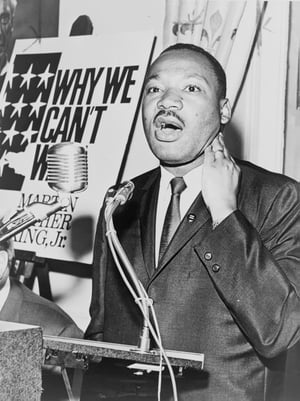 On April 4, 1968, King was shot on the second-floor balcony of the Lorraine Motel in Memphis. He was rushed to St. Joseph's Hospital, where he was soon pronounced dead.
Following King's death, Coretta Scott King devoted herself to carrying on her husband's legacy through the Martin Luther King, Jr. Center for Nonviolent Social Change located in Atlanta, Georgia.
According to their official webpage, this organization is "dedicated to educating the world on the life, legacy and teachings of Dr. Martin Luther King, Jr., inspiring new generations to carry forward his unfinished work, strengthening causes and empowering change-makers who are continuing his efforts today."