According to a recent article on healthcaredegree.com, there's a severe shortage of the medical laboratory personnel needed to help combat the current COVID-19 pandemic.
The author Nina Chamlou shines a spotlight on the critical role clinical microbiologists and generalist medical laboratory professionals play in the medical profession's efforts to contain and combat the spread of the new coronavirus.
The article also addresses the current 7% average vacancy rate among medical lab positions in the U.S. Chamlou features insights on this topic from Dr. Rodney Rohde, professor and chair of the Clinical Laboratory Science Program at Texas State University in San Marcos, Texas.
Throughout the article, Rohde expresses his wish that more science-oriented students be made aware of the many job opportunities that presently exist in the medical and clinical laboratory science field.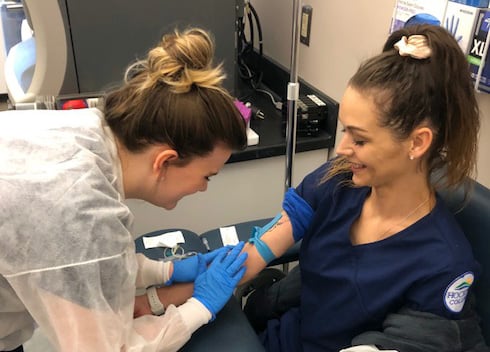 What kind of income do Medical Laboratory Technicians make?
In 2015, the median annual salary for medical laboratory technicians was about $41,420, and $60,520 for medical laboratory scientists, based on geographic location.
Where can I get the training I need to become a medical laboratory professional?
Students who enroll in Hocking College's medical laboratory technician program can obtain their Associate of Applied Science in Laboratory Sciences in only two years. The goal of the program is to provide students with the skills they need to collect samples, perform tests, and to analyze blood and bodily fluids. Students also have the opportunity to participate in practicums at local hospital laboratories.
Four Reasons to consider Hocking College's MLT program
Hocking College's Medical Lab Technician program provides students with the skills they need to collect samples, perform tests, and to analyze blood and bodily fluids. Students also have the opportunity to participate in practicums at local hospital laboratories.
Hocking College is the only two-year school in Ohio to offer both meal plans and residence halls.
Hocking College embraces diversity and since Fall 2017 has welcomed 36 international students from 17 different countries
Hocking College is in the process of obtaining accreditation from the National Accrediting Agency for Clinical Laboratory Sciences.
How do I qualify for this program?
For entrance into Hocking College's MLT program, students need a high school transcript or GED, successful completion of first semester courses and the TEAS V exam, a physical, and immunization vaccinations.
Some of the other benchmarks prospective students need to meet are as follows:
Orientation session.
Drug Screen.
Background check.
Complete core curriculum with at least a 2.5 GPA.
In order to participate in a medical laboratory science educational program, students must be able to comply with program-designated essential functions, or request reasonable accommodations to execute the following essential functions:
Demonstrate sound intellect
Have good organizational skills
Be an effective problem solver
Possess good motor skills
Have good hand-eye coordination
Demonstrate good dexterity
Possess a strong set of ethics
Have effective communication skills
Have critical thinking skills
Possess visual acuity to perform macroscopic and microscopic analyses or read procedures, graphs, etc.
Be computer literate
Be able to work independently
Be able to manage time efficiently
Be able to comprehend, analyze and synthesize various materials
Hold sound psychological health and stability.
Are there any certification requirements?
The American Society for Clinical Pathology Board of Certification is the standard certification for medical laboratory professionals. Twelve states and one territory require additional licensure. These states are California, Florida, Georgia, Hawaii, Louisiana, Montana, Nevada, New York, North Dakota, Rhode Island, Tennessee, West Virginia and the territory of Puerto Rico.
Most MLT students apply for certification through the ASCP Board of Certification. The most common route is via education which requires an associate's degree or at least 60 semester hours (90 quarter hours) of academic credit from a college or university accredited by a recognized regional or national accreditation program.
Where Can I Get More Information about Hocking College's MLT program?
People interested in this program should contact MLT Program Manager Kimberly Ephlin, MHA/ED, MT(ASCP), RMA(AMT), MA: