Do you have a pair of pants or a skirt that needs to be hemmed? Does your favorite shirt have a button missing? If your wardrobe needs mending, Hocking College's new venture is just what you need!
Entitled HC Alterations, this entrepreneurial venture is a branch of Hocking College's Fashion Design & Retail Merchandising program. This alteration and mending service is available to the community as well as Hocking College students.
By being available to the community, this venture allows students to gain real-world practical, entrepreneurship and service-learning opportunities. It also offers the Nelsonville community a much-needed and difficult-to-find service.
For more information about services and pricing, visit the HC Alterations website at alterations.hocking.edu. Anyone in need of a fitting can call 740-753-6076 or email hcalterations@hocking.edu to set up an appointment.
How HC Alterations got started
Over the summer, the pilot program for HC Alterations was spearheaded by Jazmin Cruz. Cruz is currently enrolled in Hocking College's Fashion Design & Retail Merchandising program.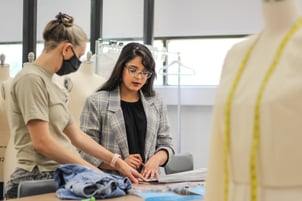 Originally from New Jersey, Cruz's inspiration for learning how to sew came from her late grandmother, who she described as being "a skilled learner." Cruz finally got her chance to learn this valuable skill in the Fashion Design program.
Cruz noted that "I came to this program not knowing much about sewing and fashion in general. After several weeks of classes, I have gained knowledge and skills that left me feeling confident and excited to learn more!"
She added that "This program here at Hocking gave me the opportunity to sew and learn about fabrics and how clothes are constructed which is very interesting to me."
Program Manager, Coral Wedel, described Cruz as "very capable as a seamstress." In regard to her progress in her program, Wedel said that "Jazmin has grown so much this last year as a student through her courses, but more importantly through her own initiative to conquer challenges and her eagerness to learn."
Do you see a future for yourself in the fashion industry?
Is your dream to become the next Calvin Klein and one day start your own signature clothing line? Or would you rather become a retail merchandiser and predict trends for a major department store chain like Macy's or Target?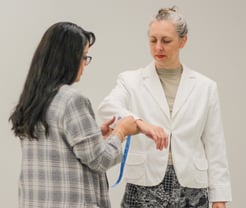 If either of these scenarios appeals to you then Hocking College's Fashion Design and Retail Merchandising program might be the perfect fit for you.
Since Autumn 2020, this program has been providing students with a unique 2-year pathway geared to help them successfully enter the fashion & retail markets.
The program has recently developed a full suite of functional studio classrooms for immersive hands-on learning labs that include the following:
Fashion Studio
Sewing Lab
Technology Classroom
Retail Lab
Dye & Print Lab
For more information on Hocking College's Fashion Design and Retail Merchandising program, contact Program Manager Coral Wedel by email at wedelc@hocking.edu or by phone at 740-753-6425.