The following are six frequently asked questions regarding the QuickStart event at Hocking College:
1. What is QuickStart?
QuickStart events at Hocking College are convenient one-stop-shopping experiences that allow you to accomplish several tasks in half a day, such as:
Enroll for classes

Confirm financial aid awards and account balances

Tour the entire campus

Secure on-campus housing if needed

Have your transcripts evaluated

Get any questions you may have answered.
2. How do I prepare for QuickStart?
Preparing for a QuickStart event is a straightforward process. All you need to do beforehand is:
3. What do I need to bring with me to my session?
On the day of your QuickStart session, there are four essential items you need to bring with you:
Some form of photo identification, such as a driver's license, a state ID card or a school ID.

If you're younger than 18, you need to bring a parent or legal guardian with you to register for classes.

You'll need to have a plan to establish your method of payment for tuition and fees at the time of registration.

A copy of any college transcript you would like evaluated for transfer credit.
4. What are some other advantages to attending a QuickStart?
QuickStarts are great social ice breakers that help you attach names and faces to members of the Hocking College's administrative team, faculty and staff and fellow students
5. How do QuickStarts benefit non-traditional students?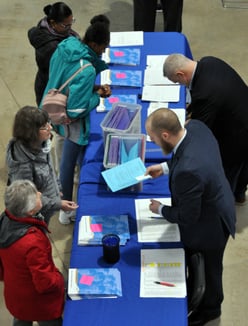 QuickStart events accommodate the needs of non-traditional students with hectic schedules by providing them with the following advantages:
Eight chances to attend a QuickStart over a two-month period

The choice of attending either a morning or afternoon session

The option to remain up-to-date on QuickStart events by subscribing to email updates and Hocking College's daily blog posts.

6. How can I get more information on upcoming QuickStarts?
For more information on QuickStart events, contact the Hocking College Admissions Office by email at admissions@hocking.edu or by phone at 740-753-7050.