The Hocking College volleyball team is only one win away from breaking the school record for wins in a season.
With a 3-1 road win over Kent State Tuscarawas 3-1 this past weekend (25-23, 20-25, 25-14, 25-12), the Hawks improved to 3-2 for the season.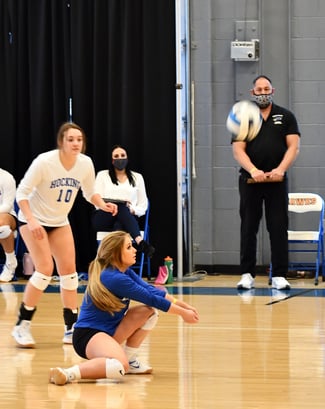 It was also their third win over an NCAA Division III program.
"This was the best game our team has played so far this season," Head Coach Jason B. Jones said.
"The team continues to set new records and milestones with each match. It is a good time to be a Hawk!"
Team members Taylor Hendershot and Audrey Blake both earned 5 aces each. In addition, the team's defense tallied 94 total digs throughout the match (Mauricea Crouch 23, Audrey Blake 21, Bayley Bocook 20, Taylor Hendershot 13, India Clark 12, Jasmine Manuel 3 and Ashleigh Allison 2).
With the victory over KSU Tuscarawas the Hawks broke six school records:
Aces per set = 3.25 (2021 Spring Team)

Assist per set = 12.75 (India Clark)

Digs per set = 5.75 (Mauricea Crouch)

Kills per set = 4.5 (Jasmine Manuel)

Most kills per match = 18 (Jasmine Manuel)

Most assist per match = 42 (India Clark)
Jones said the team's next objective is to continue their winning streak with a non-conference matchup this Thursday, Feb. 25, at Clark State College, Springfield, Ohio.
The match will be live streamed on the Clark State Athletics YouTube channel.