If you're reading our blog, we assume you'd like to know more about Social Work; so let's begin with what exactly is the 'work' of a social worker? And, where can they be found doing this work?
Typically, people assume that Social Workers counsel people for mental health issues. That is correct, but if that type of interaction with others doesn't fit your personality style, don't worry, there's much more to it than that!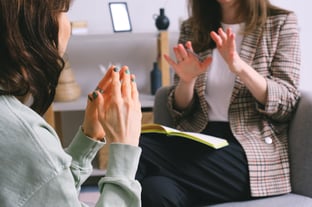 One of the most prominent services we offer is working in the area of substance abuse disorders. Social workers who specialize in this type of service work with clients who are struggling with overuse and abuse of substances. They may work as counselors or clinical case managers, both positions work out of an office, usually focused on community mental health clinics or private practice.
Social workers work one on one with the client to assist with understanding their issue, what brings it on and they teach ways for the client to deal with their disorder when it is interfering with the client's daily life.
Social workers can also be found in schools working as school counselors. In this environment, they work with students who may be dealing with mental health issues, substance use, home support problems, academic issues and behavioral issues. They also work with students to discover their career pathways and college choices as they move toward graduation. They work closely with teachers and administration staff are very busy and must love working with kids!
You can also find social workers working in all areas of healthcare, such as psychiatric offices, doctor's offices, and they are focused on very specific areas of healthcare, which often include end of life, or Hospice and palliative care. Their work here includes educating the patient on their disease diagnosis, as well as their medications and treatment choices. They provide linkage with outside services as patients need them and they work with patient families.
Social workers also work with veterans and first responders for therapy and treatment of PTSD and related diagnoses. This work can be intense for the social worker as well as the client and can require long hours and higher education. The work is very rewarding and valuable.
Working with child services and their families is one of the other main places you find social workers outside of community mental health. Here they provide services for dealing with abuse, neglect, and foster care with a focus on maintaining or bringing together families of their clients. These workers are located in Child Protective Services (CPS) offices and travel outside the office often throughout their days to meet their clients where they live. This position is vital in maintaining safe and healthy communities for all.
These are some of the Social Worker positions out there, but there are several other situations and possibilities for the licensed social worker, all of which are valuable and in demand in all communities across the U.S. There is a grave shortage currently of Social Workers, Counselors, Case Managers and Psychiatric care providers in our country. This profession is in demand currently and with the opportunity to work in an office or virtually, it lends itself to just about every personality style.
The U.S. Bureau of Labor Statistics shows the job outlook for this field growing by 12% which is faster than average. The median pay in 2020 was $24.88 an hour and $51,760 a year.
Hocking College offers an Associates of Arts in Social Work Program. This program acts as a pathway that leads directly to a bachelor's degree in Social Work or Counseling. Hocking College has an articulation agreement with Franklin University.
For more information about the Social Work Program contact the admissions office at admissions@hocking.edu or call at 740-753-7050.