Today (July 18) is Nelson Mandela International Day (NMID). The goal of this day is to promote global peace and celebrate the endearing life and legacy of South Africa's Nobel Peace Prize winning first black president who would have been 100 years old today.
Who is Nelson Mandela?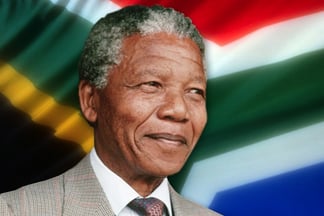 Nelson Rolihlahla Mandela became world renowned as a philanthropist, non-violence anti-apartheid activist and a politician. Eventually, he became South Africa's first black president from 1994 to 1999.
Mandela was born on July 18, 1918 in Mvezo, South Africa. Once he began attending school he was given the name, "Nelson" from one of his teachers who upheld the belief that all her pupils should have a Christian name.
In his 20's Mandela became involved in the anti-apartheid movement and joined the African National Congress in 1942. Now a lawyer, he also oversaw a campaign of peaceful, non-violent defiance against the South African government and its racist policies for 20 years.
As a result, Mandela spent 27 years in prison for political offenses and remained there until his release in 1990. Then in 1993, Mandela and South African President F.W. de Klerk were jointly awarded the Nobel Peace Prize for their tireless efforts to promote equality in South Africa.
The following year Mandela published his autobiography entitled, "Long Walk to Freedom," and was elected president in South Africa's first truly democratic election.
Until his death on December 5, 2013, Mandela continued to establish charities and foundations like the Nelson Mandela Children's Fund and the Nelson Mandela Centre of Memory. In addition, he continued to write, lecture, help build schools, and increase awareness concerning HIV/AIDS.
How Can I Celebrate NMID?
Would you like to pay tribute to the 67 years Mandela spent advocating for human rights? You can do this by sharing the story of how you, or someone else, tried to make the world a better place on social media. Simply choose which story you want to share and post this on the social media outlet of your choice using the hashtag #ActionAgainstPoverty.
Anyone interested in finding out more about this extraordinary leader's life should read the following books written by Mandela himself: