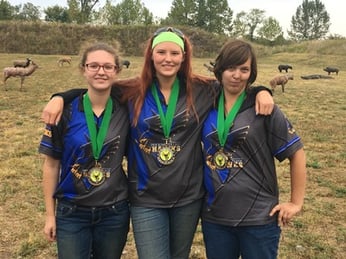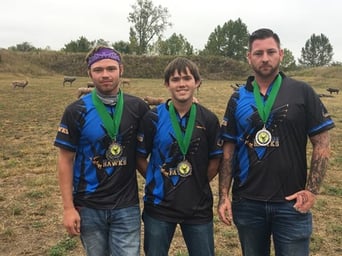 Carrier Mills, IL -- Hocking College Archery traveled to Carrier Mills, Illinois over the weekend to compete in the United States Collegiate Archery (USCA) 3D Nationals. The competition consisted of twenty-three teams from across the country competing for a National Championship in eight individual competitions and eight team competitions. Hocking College had a strong showing bringing home three Gold Medals and two Silver Medals ultimately placing them fourth in the team overall standings.
Hocking College had a phenomenal showing in the Basic Bow Category bringing home Gold Medals in the Women's Basic Bow Team Competition and the Mixed Basic Bow Team Competition. They also brought home two Silver Medals in Basic Bow, one in Men's Basic Bow Team and Men's Basic Bow (Individual).
The team of Emily Baker, Caitlin Hartman and Samantha Smith captured the Gold Medal in the Women's Basic Bow while Caitlin Hartman and Dalton Philpot brought home the Gold in the Mixed Bow Team. The team of Tristen Cahall, Dalton Philpot and Donald Russell brought home the Silver Medal in the Men's Basic Bow and Dalton Philpot podiumed to bring home Silver in the Men's Basic Bow category.
In the Bowhunter Division Hocking College's James Childress took the Gold Medal, out shooting 62 other men with a score of 408. James was followed in shooting by Sean Cook who took 8th place, Kaleb Mizener in 19th, Justin Hecker placed 30th, Alex Theobald took 49th and Connor Annen rounded out the Hocking College Men's Bowhunter Division taking 58th place. In the Women's Bowhunter Divison Hocking College sent four shooters, Christina Dormire paced the Hawks coming in 37th, while Sadie Romeo finished 43rd, Alexandra Lewis placed 46th and Kayla Berringer finished in 51st place.
In Recurve competition Taylor Foster was Hocking's lone shooter and she shot a 230, good enough for 6th place.
In the Compound Divison Hocking College sent 6 men and 1 woman. In the Men's Compound Division Hocking's Cole Luburgh placed 14th followed by Hunter Saylors at 17th, Hunter White in 19th, Bradley Wyatt in 27th, Dylan Lydy came in 28th, and Austen Sekerak placed 29th. In the Women's Compound Division Rebekah Matthews finished in 10th place shooting a combined score of 339.
In other team competitions Hocking College's Men's Bowhunter Team of Childress, Cook, and Mizener placed 5th, the Women's Bowhunter Team of Dormire, Lewis and Romeo placed 9th and the Mixed Bowhunter team of Childress and Dormire finished 5th overall. In the Compound Division the Men's Team of Luburgh, Saylors and White finished in 5th and the Mixed Compound Team of Luburgh and Matthews also placed 5th respectively.
"Our kids did a great job this weekend," said Hocking College Archery Head Coach Steve Dietz, "I couldn't be more proud of the effort that they have put forth thus far. Times got tough as we were battling against some of the best competitors in the country and some inclement weather as the aftermath of Hurricane Nate pushed through Illinois on Saturday. The kids have mentally prepared themselves for these situations and it showed this weekend. We'll continue to work on improving our craft and for this only being our third year of existence we are competing with some of the most storied archery programs in the country. People are taking notice not only regionally but nationally and I'm very pleased with where we are as a program."
Hocking College Archery will return to action when they travel to Foley, Alabama for the United States Archery 3D Nationals later this month. For more updates on all Hocking College Athletics stay tuned to www.hockinghawks.com.