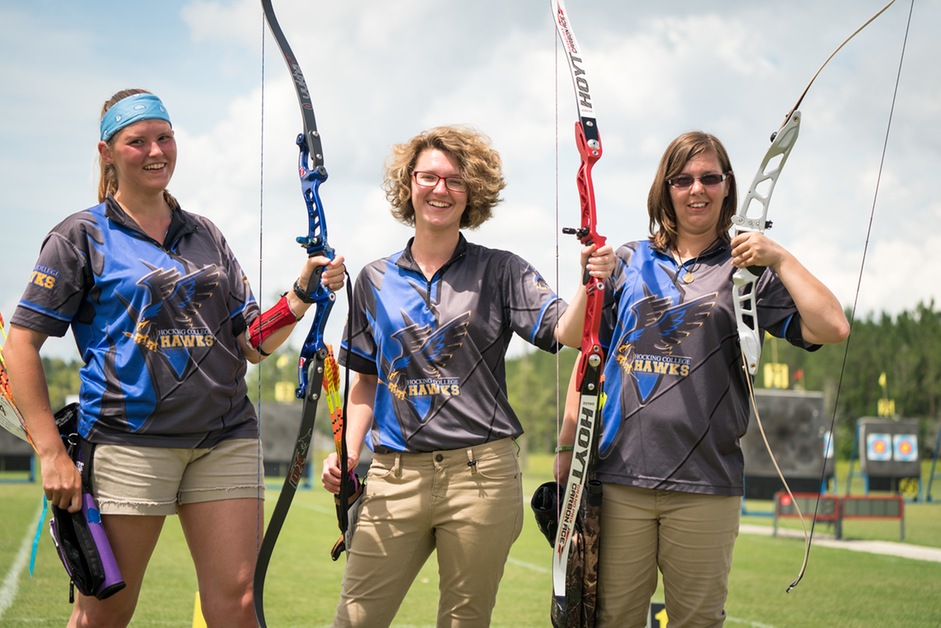 The Hocking College Archery Team placed third as a team at the USA Archery Collegiate National Championships finishing ahead of teams from Michigan State, UConn, Stanford, West Virginia, James Madison and many more. The Team has two national champions (gold medalist), five silver medals and one bronze medal winners. We also had four All Americans, three Archers Of the Year and five Academic All Americans.
Overall, HC'S Archery Team captured the following honors:
HC's team placed 3rd over approximately 40 other teams.
Gold Medal Winners: Christina Dormire shooting in the Bowhunter Women's Division, Caitlin Hartman, Emily Baker and Samantha Smith won the Barebow Women's Team event.
Silver Medal Winners: Dylan Breidenbach shooting in the Men's Bowhunter Division, Rebekah Matthews and Hunter White in the Compound Mixed Team, Christina Dormire and Craig Wolfe in the Bowhunter Mixed Team, Caitlin Hartman and Tristin Cahall in the Barebow Mixed Team and Cole Luburgh, Hunter White and Bradley Wyatt in the Compound Men's Team
Bronze Medal Winners: Dylan Breidenbach, Kaleb Mizener and Craig Wolfe in the Bowhunter Team Division
All American: Rebekah Mathews, Christina Dormire, Caitlin Hartman and Kayla Barringer.
Academic All American: Rebekah Matthews, Caitlin Hartman, Tristin Cahall, Christina Dormire and Kayla Berringer.