NELSONVILLE, Ohio—The Hocking College men's basketball team defeated the Terra State Community College Titans, 90-75, Wednesday night, March 10, 2021, at the Hocking College Student Center, behind a three-point shooting display from sophomore guard Ryan Archey Jr.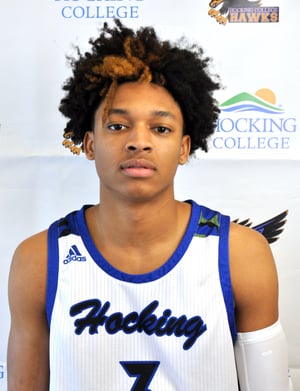 Terra State towered over the Hawks in height throughout the contest. Even the Hawks' tallest player, Chris Ringfield (6'7"), looked small compared to Terra State's 7'0" center Alex Brantley. But what the Hawks lacked in size, they made up for in hustle and skill. The Hawk starters combined for a total of 67 of the 90 points, but it was standout guard Archey Jr. who kept the momentum in Hocking's favor the entire game, as he amassed 39 points — second-most in school history, including nine three-pointers. His nine three-pointers tied for the most in school history.
Terra State jumped out to an early lead in the contest, leading 18-15 with just over six minutes gone in the first half. But once the Hawks found their groove, they quickly flipped the script and went on an 8-0 run to take the lead. From that point on, Terra State never came closer than within five points of the Hawks. Hocking's first-half lead was thanks largely to Archey Jr., who had 18 points at halftime and helped Hocking take a 43-33 lead into the break.
Coming out after halftime, Terra found early success converting on a couple of easy layups. Still, another three-point bucket by Archey would crush the Titans' hopes and allow Hocking to stretch the lead out even further. It seemed to be a highlight reel type of performance by the Hawks offensively, as three players would end up with double digits in points. But it was freshman guard Tyree Robinson's one-handed slam dunk that got the entire Hawks' bench off of their feet and allowed them never to look back. With four minutes left in the contest, Coach Ryan Miley subbed his starters off the floor for a much-deserved rest. Hocking would go on to boost its conference record to 4-2, 9-2 overall.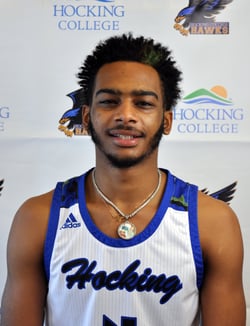 The leading scorer for the Hawks was standout shooting guard Ryan Archey Jr. with 39 points. He tied the school record for three-point baskets in a game with nine. He also collected five rebounds and dished out two assists. Tyree Robinson came off the Hawks' bench and became the second-highest scorer with 21 on the night, two of which came from the monster one-handed slam. Robinson also grabbed seven rebounds, with two assists and a block.
The leading scorer for Terra State was Amir Huston with 15 points, three rebounds and an assist.
The Hawks return to action Wednesday, March 17, as they host Clark State at 7:30 p.m. following the women's game at 5:30 p.m.