After months or even years of being on the fence, you've finally made up your mind. You've decided that this is the year you're going to turn that awesome idea of yours into a full-fledged business.
Learn the benefits and responsibilities of making the decision to become an entrepreneur. Then, find out how Hocking College can help make your dream a reality.
Benefits of Being Your Own Boss
If you become an entrepreneur, you'll enjoy a wide range of perks— that is, besides being able to make your own schedule and take lunch whenever you want. Here are some of the main benefits of branching out on your own:
Exercise (almost total) control.
While business owners still have to consider feedback from customers, employees, and partners, you'll have the freedom to make the final decisions. You don't have to worry about your boss breathing down your neck, because you're the boss.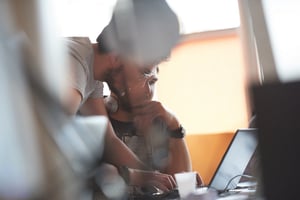 Take advantage of tax breaks.
Small business owners can claim a variety of deductions during tax season, such as business mileage and equipment.
Enjoy greater flexibility.
As an entrepreneur, you're free to choose how your business operates, whether that's from the comfort of your own home or in a brick-and-mortar location. You can also adjust the focus of your business based on market trends.
Nurture your passions.
If you want to be your own boss, you probably have something great to offer, such as cool new products or practical services. Building your own business lets you connect with others who share the same interests and refine your skills over time.
Make a difference.
Perhaps one of the best perks of being a business owner is being able to use your unique talents to help those around you.
Responsibilities of Business Owners
Being a small business owner is incredibly rewarding, but it does come with a great deal of responsibility. As an entrepreneur, you are the backbone of your business, which means you'll keep the various moving parts in check.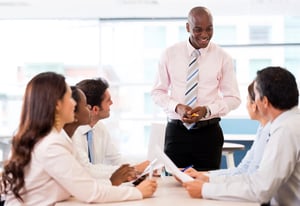 You may be involved in planning the company's marketing strategy, but also be in charge of hiring, payroll, and accounting. More than likely, you will also spend a great deal of time doing customer service work, making sure your customers are satisfied with the products/services they receive.
Tips and Tricks for Starting a Small Business
If you want to be your own boss, there are at least three strategies you'll need to employ.
Clarify your vision. Know what you want to achieve and keep that at the forefront. That way, even if your path changes, you'll still be headed in the right direction. Develop a business plan to help you do this.
Gather a tribe of like-minded people. If you want your business to prosper, you must surround yourself with positive, goal-oriented people from whom you can seek advice or collaborate.
Sell yourself. Practice an elevator pitch and talk about your business, products, or services with anyone who'll listen. Pass out business cards and plan to cold-call and cold-email until you establish a client base.
Do you need special training?
Since business owners wear so many hats, you can help yourself adjust to these responsibilities with specialized training. The Associate of Applied Business in Business Management and Entrepreneurship degree offered at Hocking College provides a solid foundation to help you steer your business towards success.
Students will receive education on a number of vital topics, like legal, computing, accounting, human resources, marketing, and decision-making.
You may be young and in need of more direction before you make the leap into entrepreneurship, or you may be more seasoned and simply need to refine your skills in a particular area. Regardless, there's a place for you at Hocking College.