A farrier is an equine hoof care specialist who trims and shoes horse's hooves. Farriers are important because shoeing horses helps make their hoofs temporarily stronger, provides support to injured hooves, and addresses the unique special needs of individual horses.
Farriers typically also handle these responsibilities:
Make horseshoes by hand or machine
Replace horseshoes every six to eight weeks
Adjust the shape of horseshoes by using a hammer and anvil
Help horses maintain their balance by cutting away excess hoof growth
Discuss a horse's shoeing requirements with the owner
Why Should I Become a Farrier?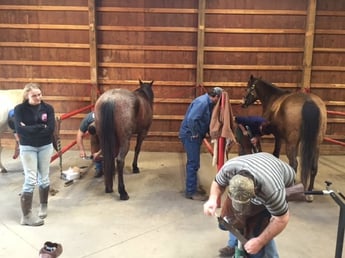 While farriers help provide many benefits to horses and their owners, they also get the benefits of an extremely diverse and independent field. Becoming a farrier gives you the opportunity to work hands-on with animals and work outside of a traditional office setting.
By nature, the field is very independent because farriers are not tied to an office. This means you may get to travel often and dictate your own work hours. With enough experience, farriers can become their own boss and have even more control over their schedules.
What Kind of Person Should Become a Farrier?
So you want to become a farrier? Great. If the benefits and rewards that come from this profession are appealing to you, you may be fit to start working with horses.
So what characteristics are important for someone who wants to become a farrier?
Someone who loves and respects animals
Someone willing to work hard
Someone who can focus and persevere even in frustrating situations
Someone who is resourceful and self-motivated
Anyone interested in becoming a farrier should be aware that this profession expects applicants to meet certain physical and academic requirements, as well.
The job of a farrier is physically demanding, so people interested in the field should have reasonable physical strength and stamina, as well as quick reflexes and good manual dexterity.
While these physical attributes are important, there are certain academic requirements that are standard to have in the field.
If you're interested in starting your own farrier business, you should have basic computer and math skills, as well as having some understanding of business management practices.
Typically, farriers also complete a farrier training program at an accredited two-year college, complete an apprenticeship with an established farrier, and fulfill any specific certifications issued through the American Farrier Association.
Ready to Become a Farrier?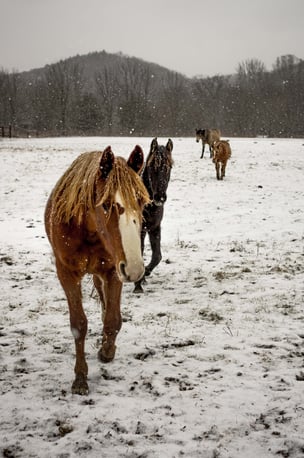 If you think you have all of the above characteristics and are ready to find your ideal career as a farrier, use these tips to become a standout candidate:
Possess excellent horsemanship skills
Familiarize yourself with the basics of general horse care
Learn about horse anatomy
Keep yourself in good physical shape
Sharpen your time-management skills
Stay up-to-date on changes in the farrier industry
Know the protocol for responding to animal emergency situations
Get Your Farrier Degree at Hocking College
Students who decide to pursue their Associate of Technical Study in Farrier Science & Business degree at Hocking College will learn much more than just the newest - and safest - ways to shoe horses.
They will also be encouraged to develop the skills they need to go into business for themselves.
Hocking College also offers students the following benefits:
A campus that's close to a number of farms and farrier facilities where students can gain the hands-on job experience they desire
Smaller class sizes, meaning that students will be able to get more one-on-one time with their instructor
A college that has a longstanding relationship with the western ranching community, making job prospects for graduates in this part of the country more accessible
Learning how to develop their business management skills
Learning how to operate and maintain farrier equipment
Experience with welding
An Associate of Technical Study degree in Farrier Science & Business in only two years
Preparation to pursue a variety of job options, some of which include working in the race horse industry, at a dude ranch, or in a private stable.
So are you ready to find your ideal career? Quit horsin' around and become a farrier today!