Hocking College defeated Sinclair Community College last night with a final score of 102-92. Three Hocking players finished with more than 20 points. Sophomore guard Jose Deleon scored a game-high of 28 points, sophomore guard Jarell Giles scored 26 points, and freshman guard Azende Johnson scored 22 points. Giles led the Hawks in the first half, scoring 19 of his 26 points which included 12 points in the first nine minutes.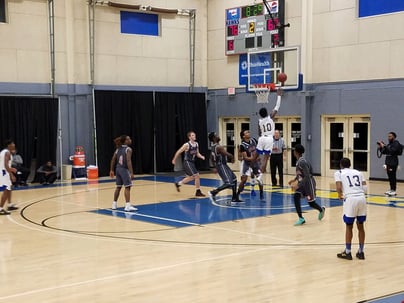 The game was tied 41-41 at halftime, but the Hawks dominated the second half and led by as many as 20 with a score of 76-56 with 9:27 to go. However, Sinclair reduced the deficit to as few as eight with a three-pointer shot by Sean McNeil, the nation's leading scorer, with only 36.8 seconds left on the clock, bringing the score to 98-90.
As a team, the Hawks shot an outstanding 52.3% of their shots, led by Giles' 11-of-18 (61%), and were equal to the much-taller opponent on the boards (30-29). The Hawks managed to sink four consecutive free throws to close the game and take the win. The Hawks have now won the last four home games, as well as four of the last five overall.
You can see the Men's Basketball Team back in action tomorrow night when they take on Southern State Community College at home at 6 p.m. and on Saturday against Ohio's Bryant & Stratton Community College at 3 p.m.*

*Weather permitting