Are you a high school senior who's ready to move out on your own after graduation and would like to continue your education, but have no interest in attending a four-year college? Has your search for a good technical college in your area left you discouraged? Is the only thing holding you back from attending a two-year college in another state the prospect of you having to pay thousands of extra dollars in out-of-state-tuition?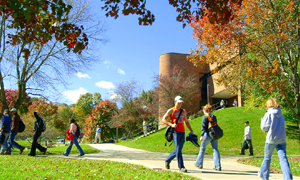 If this sounds like you, then perhaps you should consider enrolling at Hocking College in Nelsonville, Ohio. Starting in Fall 2018, out-of-state students can take advantage of Hocking College's new Border States' Scholarship Program.
How Does This Program Work?
Currently at Hocking College, out-of-state students pay $4,390 in tuition fees per semester. Starting in Autumn 2018, students who live in Indiana, Kentucky, Michigan, Pennsylvania, and West Virginia will be eligible for a $1,695 scholarship per semester that will reduce their tuition to $2,695. However, applicants should be aware that this amount does not reflect the cost of the books and supplies, course fees, housing, and a meal plan.
Students who plan to apply for Hocking College's Bordering States' Scholarship must meet the following requirements:
Students need to provide proof of residing in one of Ohio's bordering states: Indiana, Kentucky, Michigan, Pennsylvania, and West Virginia.
Hocking College's Bordering States' Scholarship will be awarded on a first-come, first-serve basis so students should fill out all the necessary paperwork as soon as possible.
Students must be enrolled at Hocking College on a full-time basis, or

12+ credit hour classes (usually 4 classes or more – depending on the program).
How Do I Apply?
Students who would like to attend Hocking College and apply for the Bordering States' Scholarship need to complete the following tasks:
More Reasons to Consider Hocking College
In addition to offering students more than 50 programs to choose from, Hocking College is one of the few two-year schools that offers students the full college experience. Some of the benefits of attending Hocking College include the following:
Hocking College is the only two-year college in Ohio that offers students a complete college experience.
The Hocking College Police Department is on duty 24/7, 365 days a year.
Hocking College's Student Center comes complete with an indoor track, swimming pool, and a rock climbing wall.
Students who maintain a satisfactory GPA can join Hocking College's chapter of the Phi Theta Kappa Honor Society.
Students have the chance to join a variety of different clubs.
Athletic-minded students can take part in Hocking College's athletics, including our award-winning archery team.
Hocking is also the only two-year college in Ohio that offers on-campus residential dormitories and meal plans.
Hocking College has a long-established history of dedicating itself to transforming the economics of Southeast Ohio.
Our smaller class sizes can provide students more one-on-one time with their instructors.
Students will be able to receive the essential hands-on work experience they need to secure a job.
Students are encouraged to think entrepreneurially, and are provided the tools they need to consider going into business for themselves.
Immediately after their graduation, students will be able to leave Hocking College with the training, skills, and confidence they need to successfully enter the job market.