Traditionally, National Library Week is a time to shine a much needed spotlight on the essential part libraries, librarians, and library workers play in bringing their respective communities together.
The theme for 2019 is Libraries = Strong Communities. The point of this theme is to recognize how libraries function as both havens of knowledge and communal gathering spaces where people of all ages, races, religions and backgrounds can come together to connect and interact with one another.
The honorary chair for this year's National Library Week is Melinda Gates. Gates is a philanthropist and a former general manager at Microsoft. In 2000, she and her husband co-founded the Bill & Melinda Gates Foundation, which is the world's largest private charitable organization.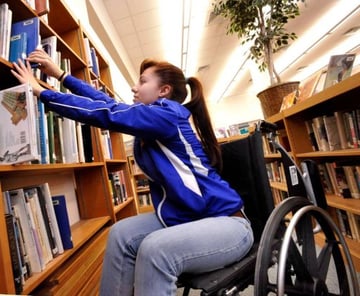 How Can I Recognize National Library Week?
There are many ways you can recognize National Library Week by supporting your own local library. Some ways you can do this is by visiting your local public or school library, supporting an activity or program taking place there, promoting them on social media using the hashtag #MyLibraryMyStory, volunteering, or making a donation.
Have You Visited the Hocking College Library?
The Hocking College Library is located on the first floor in Davidson Hall. They are "committed to the advancement of teaching and learning by providing resources and services that support the core values of the college, and enriching the experience by creating a community of lifelong learners."
Jeff Graffius serves as the Library Director and can be reached by phone at (740) 753-6338 or by email at graffiusj@hocking.edu.
What Are Their Hours of Operation?
The hours for the library vary based on the semester and the days of the week. Below are the hours of operation during the autumn/spring semester, as well as the summer.
Autumn & Spring Semester
Monday - Thursday: 7:30 AM — 10 PM
Friday: 7:30 AM — 5 PM
Saturday & Sunday: 12 PM — 5 PM
Summer Semester
Monday - Thursday: 7:30 AM — 5 PM
Friday: 7 AM — 4 PM
Saturday & Sunday: CLOSED