NEW LEXINGTON, Ohio—For Misti Malfe, the Hocking College low-cost dental hygiene clinic is a dream come true.
"It's what I've always wanted," Malfe, the college's Dental Hygiene program manager, said.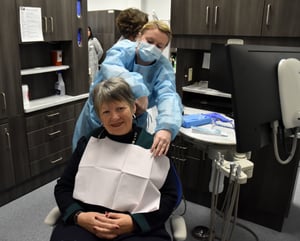 Malfe said the New Lexington area is "very underserved" in dental care, pointing out that there's only a handful of dentists in the area, and she hopes the new clinic — which cost approximately $1 million — can help fill that gap.
"Dental care is almost unaffordable for many people," Malfe said. "It gives local people a place to go where they can afford at least to get basic dental care." She hopes the low-cost services offered at the clinic will make it attractive to potential patients in Perry and surrounding counties.
Hocking College dental hygiene students operate the clinic — which consists of 10 state-of-the-art operatory units — under the direction of dental hygienists and faculty members Malfe, Karelle Hopkins and Baylee Barrera. Barrere also serves as the clinic coordinator.
Malfe said a routine visit to the clinic consists of an oral examination, including X-rays, and a cleaning by a student. The students can also do sealants and take impressions for sports mouth guards.
The clinic is open to anyone, even if you already have a dentist. "Some people are coming to us for one appointment a year and their regular dentist for the other," Malfe said. She added that for a small fee to cover printing costs, patients can receive a copy of their X-rays to take back to their regular dentist.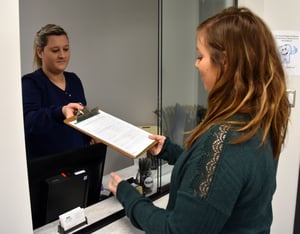 Malfe said all of the students working in the clinic have successfully completed 20 weeks of training on test mannequins and each other before they work on patients.
"Some of them have even practiced on me," she added. They use the clinic to meet the requirements they'll need to become a registered dental hygienist.
"This clinic not only provides hands-on training for our dental hygiene students, but it also gives them a chance to help their community by offering low-cost exams and cleaning which will provide much-needed dental health services locally," Dr. Betty Young, president of Hocking College, said. "The program provides training for in-demand jobs with excellent salaries for our graduates."
Malfe echoed those sentiments, "Our program is a really great opportunity for the people who live here," citing not just the dental clinic, but the ability to get a degree as a dental hygienist — a high-demand job. She said many of her students live in the New Lexington area.
"I've been waiting for this for 30 years," Hopkins said on the opening day. She added that there are no other dental hygiene training programs in southeastern Ohio.
Malfe hopes to do outreach in the community, taking her students to Head Start classes and schools to teach younger students about dental hygiene and older ones about potential careers in dental care.
The Hocking College Dental Hygiene Clinic is located at the Hocking College Perry campus, 5454 State Route 37, New Lexington, across the street from the Perry County Fairgrounds. Clinic hours will vary each semester. It's currently open 18 hours a week. During the summer, those hours will increase to 32, and in the autumn semester, the clinic will be open 36 hours a week. To set up an appointment at the clinic, call 740-753-7540.
Clinic costs (potential procedures by Hopewell or your regular dentist are not included)
$20 for adults
$10 for children under 14 years-old
$5 for sealants, with a maximum per visit charge of $15
$5 for custom sports mouthguard or custom trays
People 65 and older are free
Medicaid members are free but must present their card.
Interested in becoming a dental hygiene student?
In only two years students can graduate from Hocking College's Dental Hygiene program with an Associate of Applied Science in Dental Hygiene degree.
Located at Hocking College's Perry Campus in New Lexington, Ohio, this new Dental Hygiene program offers students the required training in general education, biomedical sciences, dental sciences and dental hygiene sciences they'll need to success
Students who successfully complete this program will be eligible to take their national and regional board exams and their state laws exams to become registered dental hygienists.
For more information on Hocking College's Dental Hygiene program contact Program Manager Misti Malfe at one of the following by email at malfem@hocking.edu or by phone at 740-342-3337 #7548.