Data Privacy Day encourages people to examine how their personal information is being collected over the internet and how it's being used.
In conjunction, Mark Riley, the program manager for Hocking College's Cybersecurity and Network Systems program, recently added the college as a Data Privacy Day Champion with the National Cybersecurity Alliance.
The History of Data Privacy Day
Council in Europe began Data Privacy Day in 2007. By 2009, the United States House of Representatives recognized National Data Privacy Day. The United States Senate later recognized Data Privacy Day in 2010 and 2011. Since then, various groups and organizations continue supporting the observance on an annual basis.
How is user data collected?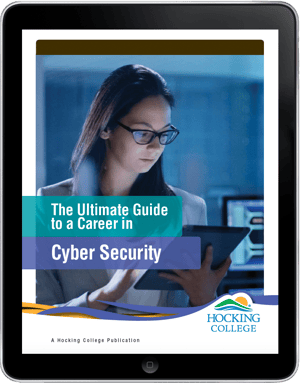 Every time users surf the internet, they leave behind a digital trail of proverbial bread crumbs that help data collectors track every site they've visited online.
Merely clicking on an advertisement, or taking a seemingly insignificant survey, could help data collectors pinpoint your location, what kind of device you're using, and provide them with access to your information.
Websites that collect user-based data use this to distinguish you from other users, monitor your online activities on a 24/7 basis, and redistribute your personal information both legally and illegally.
10 Tips for Data Privacy Day 2021
We asked Riley for some tips to help people use the internet more securely:
Secure Your Devices and Logins:

A strong password is your first line of defense. Instead of the typical one or two-word password, use a strong passphrase. Also, set up touch ID features, lock your devices, and set up dual-factor authentication when you can. These security measures can help protect your information if your devices are lost or stolen, and they also keep prying eyes out of your data.

Be Wary of Wi-Fi Hot Spots:

Public wireless networks and free Wi-Fi hot spots are not always secure, which means anyone could see what you are doing on your device while connected. Limit what you do on public and free Wi-Fi, and avoid logging in to key accounts like email and financial services on these networks. For example, do your online banking at home on your home network instead of logging into your account at your local coffee shop.

Delete Apps When Done:

How many apps do you have on your phone that you never use? Many of us download apps for specific purposes, such as a vacation or a wedding, and no longer need them afterward. Or you may have downloaded an app that is no longer useful or interesting. It's a good security practice to delete all apps you no longer use.

Your Personal Information is Like Money. Value It. Protect It:

You may not realize it, but private information about you, such as the video games you like to play or the TV shows you want to watch, your contacts list, where you shop and your location, all have value — just like money. Data about you can be used in various ways, sometimes in ways you wouldn't expect or even approve. Be thoughtful about who gets that information and how it's collected through apps.

Own Your Online Presence:

The moment you turn on a new smart device or sign up for a new online account, configure your privacy and security settings. Most devices and accounts default to the least secure settings — so take a moment to configure those settings to your comfort level. Disable any features you don't need, such as location tracking, and make it a point to check these settings to adjust them regularly.

DO YOUR HOMEWORK:

Before purchasing any new internet-connected device, do your research. Check out user reviews on the product, look it up to see if there have been any security/privacy concerns, and understand what security features the device has or doesn't have.

MAKE LONG, UNIQUE PASS PHRASES:

Length trumps complexity. A strong passphrase is a sentence that is at least 12 characters long. Focus on positive sentences or phrases that you like to think about and are easy to remember.

PASS PHRASES AREN'T ENOUGH:

Use two-factor authentication or multi-factor authentication (like biometrics, security keys or a unique, one-time code through an app on your mobile device) whenever offered.

LESS IS MORE:

When completing a profile for an account, you don't have to fill in everything (and if you do, who is to say you have to answer honestly?). Limit what information you put online. If it isn't required, don't add it. And if a company does require information you don't feel comfortable submitting, then reconsider creating a profile with that company.

Manage Your Privacy:

Learn to manage your data better and safeguard your privacy. An organization should be 100% open and honest about collecting, using, and storing your personal information.
Interested in a career in cybersecurity?
Since Autumn 2018, Hocking College in Nelsonville, Ohio, has offered a Cybersecurity and Network Systems program. Students can graduate with an Associate of Applied Science in Cybersecurity and Network Systems Technology in only four semesters.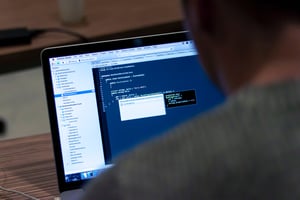 Hocking College's Cybersecurity and Network Systems program provides students with the real-world work experience they'll need to find employment securing data systems for commercial businesses, banks, schools and government agencies.
The hands-on-oriented curriculum is designed to teach students how to react to cyberattacks and prevent hackers from stealing data and creating havoc within network systems.
Hocking College's smaller class sizes provide students with the one-on-one time with their instructors that they will need to become proficient in both operating systems and networking technologies.
Students will also have opportunities to obtain additional certifications courtesy of Hocking College's partnership with Cisco Networking Academy.
Students who pursue an Associate of Applied Science in Cybersecurity and Network Systems Technology degree at Hocking College will obtain the following skills:
How to analyze problems and develop logical solutions to resolve them

How to design, implement, maintain and troubleshoot a small business network

How to document network architecture, hardware and software

How to install and configure PC-based security software

How to configure and implement firewalls to protect network infrastructures.
For more information on enrolling in Hocking College's Cybersecurity and Network Systems program, please contact Program Manager Mark Riley at one of the following: