Lake Snowden is a 675-acre education and recreation park, featuring the largest of fourlakes that form the Margaret Creek Conservancy District. The lake covers approximately 136-acres offering camping, boating, fishing, picnicking and swimming. The serene setting reveals natural beauty while maintaining the convenience of being just 5 miles from Athens, Ohio located in the village of Albany, Ohio.
The shelter houses, restroom facilities, beach, shoreline fishing holes and fish hatchery make Lake Snowden a full-featured recreation park.
History
Lake Snowden was built for the Margaret Creek Conservancy District in 1968 with federal funds through the Farmers Home Administration and the Soil Conservation Service in an effort to control flooding. It opened to the public in 1972. In 1998, Hocking College purchased Lake Snowden from Le-Ax Water District. The college owns and operates a fish hatchery at Lake Snowden that furthers local fish management and aquaculture.
Hocking College also assists the Division of Wildlife in installing deep water fish structures, monitoring fish populations and monitoring water quality.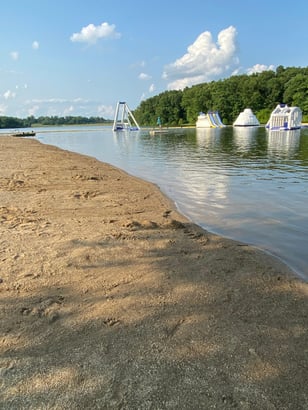 Recreation
Splash into summer with a wide array of outdoor recreation activities that include a swimming area and an inflatable water park. The beach itself is open every day from 11 a.m. until 7 p.m. With more than 12 miles of trails available, horseback riding is also a popular attraction near the lake.
There are 125 campsites in four areas of the park: The Locust Grove, Big Oak camp, Hickory Camp, and Hilltop Camp. The park also has two shelter houses with seating for up to 75 people. To preserve the lake's natural beauty, The Ohio Department of Natural Resources has ordered Lake Snowden to be a "no wake" lake or idle only lake. A boat launching ramp is located on the south side of the lake, near State Route 50.
The Pawpaw Festival
Thousands flood to Southeastern Ohio every year to attend the Ohio Pawpaw Festival held at Lake Snowden each September. This year's festival will be held September 17-19. The pawpaw is North America's largest native tree fruit which grows particularly well in Southern Ohio. Some popular events at the festival include the pawpaw cook-off, the best pawpaw competition and the pawpaw eating contest. Several Ohio breweries provide a unique beer brewed with the fruit's pulp at the beer garden.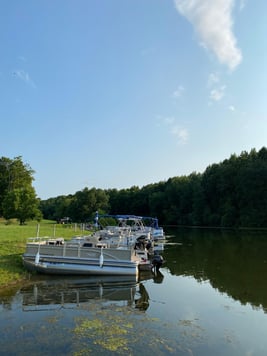 Hours & Contact
The main office at Lake Snowden is open from Memorial Day until Labor Day every year. The hours are Sunday through Thursday from 9 a.m. until 5 p.m., Friday from 10 a.m. until 7 p.m. and Saturday from 11 a.m. until 5 p.m. The water park is open 7 days a week from 11 a.m. until 7 p.m.
If you have any questions or comments, you can contact Lake Snowden by phone at 740-698-6373 or by email at lakesnowden@hocking.edu.