The risks from the coronavirus pandemic aren't just virus itself. The economic uncertainty, the social isolation and the unprecedented changes to the daily lives of millions worldwide can lead to greater feelings of anxiety.
While those issues can negatively impact individuals with existing mental health issues and substance use disorders, researchers are warning of an increase in mental health issues due to the pandemic, including "substantial increases in anxiety, depression, substance use, loneliness, and domestic violence."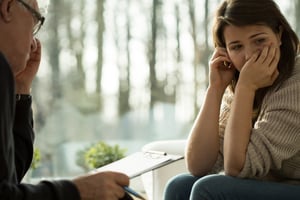 Many of those issues go hand-in-hand.
"Anxiety and depression are kissing cousins," Lori Baker, program manager for Hocking College's Addiction Counseling program, said.
She said the anxiety caused by the pandemic and the upheaval to people's regular routines could cause them to overuse drugs, alcohol or other substances.
"It's not just previous users who can be triggered at this point or find themselves falling into a pattern of what we'd call overuse," Baker said.
"When people get overly anxious, their anxiety levels can get so high that it triggers their natural flight or fight response," she explained.
To calm down, they'll self-medicate using alcohol or other sedatives like over-the-counter sleep medicines.
Baker's worried about people used to being busy and active with people around them all day.
"The people who aren't used to isolation — especially younger people — they'll say well I've just been having a drink every night, which they normally may not have been doing because they were busy with work and other things," she said.
"All of these mental health issues can drive people to use," Baker said. "They self-medicate with these substances. They become a way to alleviate the intense feelings of hyper-alertness, the fear, the depression, the inability to maintain the control of their lives and the inability to sleep or rest."
Experts say that some of the things you can do to help decrease feelings of isolation for yourself and others include:
Outreach — Keep in regular contact with people in high-risk groups, including the elderly and those with mental health challenges. Don't just catch up. Have a conversation, even if you have to structure it.
Online and on-phone activities — Take part in online group activities like exercise classes, worship services or game nights. Someone's even compiled a list of online board games you can play with your friends and family.
Tele-therapy — Many health insurance companies have expanded their coverage to include virtual visits with mental health providers. Check with yours to see if you can get professional mental health treatment at home.
Baker also suggests people maintain a proper sleep schedule. With less structure during the day and few activities outside the home to occupy your time, making sure you're going to sleep and waking up at proper times can be difficult. However, if you build structure into your day, you can begin to counteract the feelings of just drifting through the day with no goal.
"All of these issues are driven by anxiety," Baker said. "And what we do as counselors is examine the root of that anxiety."
Why study addiction counseling?
One of the reasons researchers fear a potential mental health crisis in the wake of the COVID-19 pandemic is the current lack of access to mental health and substance abuse treatment many people have.
That lack of access is due, in part, to a shortage of qualified mental health professionals.
Where can I get the training I need to get into the addiction recovery field?
Hocking College in Nelsonville, Ohio, offers an associate degree in Addiction Counseling.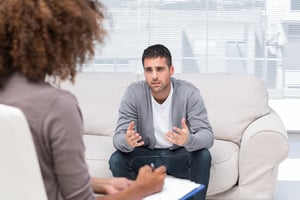 This program provides students with both the classroom training and supervised clinical internship hours they need to graduate. Both elements are required when graduates apply to take their licensure exam from the Ohio Chemical Dependency Board for them to become Licensed Chemical Dependency Counselors.
After they pass their licensure exam and the work hours required by the licensing board, graduates can begin their career in the field.
Both the degree and certificate programs meet the licensure recommendations of the International Certification & Reciprocity Consortium. This organization sets the international standards by which all chemical dependency counselors are judged.
What skills will I learn in the program?
Students in the Addictions Counseling program at Hocking College learn a variety of skills through hands-on training, including:
How to treat clients from diverse backgrounds
How to apply their education and training to help benefit their clients
How to maintain professional standards and establish ethical boundaries with clients
How to properly gather and compile clinical information
How to assess and support a client's diagnosis and proposed treatment program
How to prepare and update client-oriented documentation promptly
How to practice clinical leadership skills
How to interact with allied community support and prevention services
For more information on the program, contact Addiction Counseling Program Manager Lori Baker by email at bakerl13412@hocking.edu or by phone at 740-753-6473.
More Help
Help is available if you're experiencing mental health issues related to the pandemic. Call the national Disaster Distress Helpline at 1-800-985-5990 (1-800-846-8517 for TTY), connect with a trained counselor through the Ohio Crisis Text Line by texting "4HOPE" to 741 741, or call the Ohio Department of Mental Health and Addiction Services helpline at 1-877-275-6364 to find resources near you. You can contact the National Suicide Prevention Lifeline at 1-800-273-TALK (8255) (1-800-799-4889 for TTY).