February is National Children's Dental Health Month!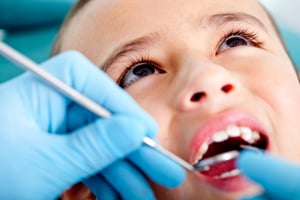 The goal of NCDHM is to bring dental professionals, healthcare providers and educators together to encourage children to practice good oral health habits.
Sponsored by the American Dental Association, this year's NCDHM campaign's theme is "Water: Nature's Drink."
How does drinking water benefit teeth?
Water is calorie and sugar-free.

Water keeps the mouth clean

Water helps fight dry mouth

Water helps restore tooth enamel
How can I support National Children's Dental Health month?
You can take action and celebrate NCDHM:
Schedule regular appointments with your dentist for check-ups and cleanings every six months

Buy a new toothbrush every three to four months

Explore the coloring pages and online activities offered by the American Dental Association

If you're a parent, start supervising your child when they're brushing their teeth

Post something on social media that shows support of NCDHM on your social media pages
Where can I learn to become a dental hygienist?
Students can graduate from Hocking College's Dental Hygiene program with an Associate of Applied Science in Dental Hygiene degree in only two years.
Located at Hocking College's Perry Campus in New Lexington, Ohio, the Dental Hygiene program offers students the required training in general education, biomedical science, dental science and dental hygiene science they'll need to succeed.
Students who successfully complete this program will be eligible to take their national and regional board exams and their state laws exams to become a registered dental hygienist.
What skills will I learn in this program?
Students who enroll in Hocking College's Dental Hygiene program will learn how to:
remove hard and soft deposits from patient's teeth

use an ultrasonic scaler to clean/polish patient's teeth

apply sealants and fluoride to patient's teeth

assess a patient's oral health

report any important findings to a dentist

document their patient's ongoing treatment and care

advise every patient on their oral health care habits that should include brushing, flossing and the use of appropriate dental hygiene aids

advise every patient on proper oral health home care, including brushing, flossing and the use of appropriate aids

expose and assess radiographs

understand the oral health needs of specific age groups

administer local anesthesia, nitrous oxide-oxygen sedation and other pain management techniques
For more information on Hocking College's Dental Hygiene program, contact Program Manager Misti Malfe at malfem@hocking.edu or 740-753-6326