Not many people start their journey in theatre by sweeping, but for me, sweeping up the tiny black box theatre in the little town of Urbana in Ohio's Champaign County was something that inspired a life-long love of the arts.
Years later, Margaret Piatt, the director of the Urbana University theatre program, said I was "ever industrious," and always "wanted something to do while she waited for someone in rehearsal."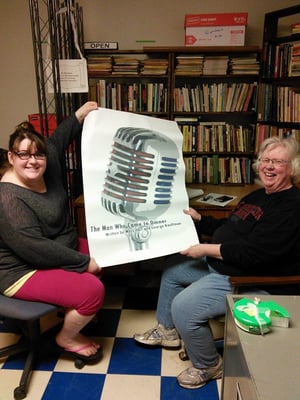 "Her sweeping was not a casual pushing around of dust but rather a thorough moving of furniture and scraping of grime out of corners hidden behind the piano and filing cabinets."
These brief snippets of rehearsal encapsulated me in a way that kept me coming back until I cleaned the risers, the walls and eventually made it into the box office where I basically lived for the next four years of my undergrad.
Even though I wasn't an actress, I worked to make my mark on every show. Whether I was helping with set design, designing programs and seating charts, directing the production or hanging and operating the lights for the show, I was there and ready to lend a hand wherever they needed me. In retrospect, I think this is what prepared me most for my career at Hocking College — the ability to pitch in and help get things done.
The Promise of a New Era
During my senior year of college, Urbana University was on the verge of financial collapse. There were simply not enough students to pay the bills.
It caused a lot of heartache between myself and the theatre director as we pondered what would happen to our little black box theatre we had worked so hard to get in shape.
Following our last show "Theatre Talks," Margaret and I reorganized our box office, and for what I assumed would be the final time, I swept the floors.
A month later, Franklin University acquired Urbana University's assets.
And the show continued on.
An Ill-Timed Plot Twist
As havoc wrecked the state of Ohio and state-wide lockdowns put a damper on the economy in March, troubling news was brewing in Champaign County.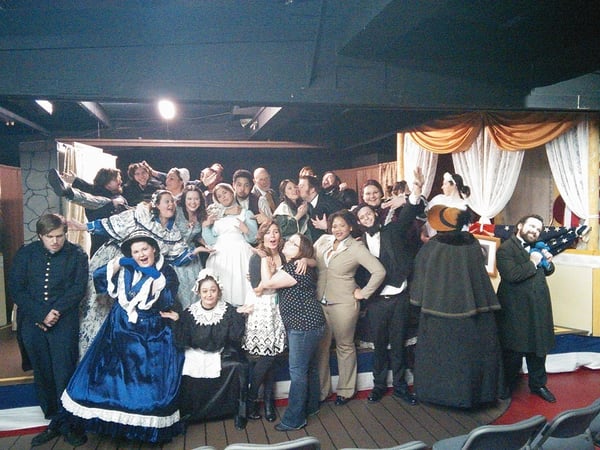 On April 21, the Urbana University Branch Campus announced its intentions to close for good, and its plans to cease enrollment at the end of the 2020 Spring Semester.
Like many of my college friends, I took to social media to express our hurt, sadness and humble gratitude to the college.
"Franklin University's efforts to stabilize the Urbana campus have met with some success in recent years," the official statement read. "However, the global coronavirus pandemic has added a level of stress and uncertainty to Urbana's prospects that make it impossible to sustain, compelling Franklin University to discontinue physical operations on the branch campus effective after the Spring 2020 semester has ended."
Groups formed and petitions were signed in outrage; meanwhile, I immediately thought of our tiny black box theatre nestled behind dorms and offices. The equipment, the costumes, the props, all tucked away with the potential of being carelessly thrown out by someone who didn't know any better. I had to find out what was going to happen to it. I sent an email, asked what the plan was, and, if there wasn't one, asked if they would be willing to donate some of the equipment to my new home at Hocking.
Then I waited.
Bringing the Arts to Hocking College
In 2019, Hocking College began a concerted effort to bring arts to the campus by creating a band and choir program and announced its newest program — Theatre.
The thought was to offer students the ability to get an associate degree with the potential of this being a highly transferable program to many four-year colleges in Ohio.
"The performing arts are among the most genuine, honest and authentic outward representations of humanity, of the human spirit, of our collective conscience and of our true selves," Emily Davis, Theatre program manager at Hocking College, said.
"Arts education contributes directly to the development of empathy, and of our ability to communicate with one another at the deepest levels, allowing connections we are hard-wired to understand as human beings. As such, arts education is absolutely vital to each of us and to all of society."
But starting a theatre program from scratch is quite an undertaking. Besides people like Davis to run the program, you need the equipment, the costumes and the props like what was sitting unused at Urbana.
After months of eagerly awaiting Franklin to post updates, I got THE EMAIL.
THE EMAIL!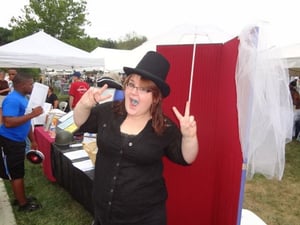 As a professional woman, I try to keep my emotions in check. For those who know me, you know it doesn't always work, but hey, that's always my goal. But this email brought tears to my eyes.
On Wednesday, Aug. 20, I got THE EMAIL that said Franklin University would be ecstatic to donate all remaining theatre equipment to Hocking College's new Theatre program.
The generosity of this gift will inspire thespians across southeast Ohio for hopefully years to come, and I am so grateful to play a part in this legacy for students at Hocking College.
Now, as I ready myself to drive up to collect all of the memories from my college years , I've got a purse full of tissues and my broom. You know — just in case we need to clean the place up after moving everything around, and the dust could trigger my allergies. Yeah, that is definitely what the tissues are for: allergies.
After all, the show must go on and now it will go on at Hocking.
About the Theatre Club at Hocking College
The Theatre Club at Hocking College allows students to exercise their creativity while building confidence, poise, and communication skills.
Students have the opportunity to participate through creative writing, performing, directing, costume design and stage management.
This club is a safe space for all people who love to have fun, use their creativity and make theatre of all kinds.
Meetings are held every Wednesday, from 1-3 p.m. in Oakley Hall, room 304B. For more information, contact Emily Davis at davise37786@hocking.edu.
About the Communications and Theatre Program at Hocking College
The Communications and Theatre program at Hocking College is anticipated to be launched in Autumn 2021. The program covers both acting and technical courses, with hands-on, practical work in all areas of theatrical production.
Students who graduate will be eligible to receive an Associate of Arts in Theatre and/or complete the first two years of a Theatre degree and transfer seamlessly into a four-year program.
For more information, please contact the program manager, Emily Davis, at davise37786@hocking.edu.
About Franklin University
Founded in 1902 in Columbus, Ohio, Franklin University is a four-year nonprofit private school that specializes in helping non-traditional students realize their academic goals, making higher education accessible, affordable and relevant. The university has partnerships with around 140 other community colleges — including Hocking College — and has more than 45,000 alumni scattered around the globe.