Nelsonville, OHIO—The Hocking College men's basketball team exploded for 49 points in the second half to run away from the Rio Grande JV, 79-62, on Wednesday evening, Feb. 10, in the Hocking College Student Center.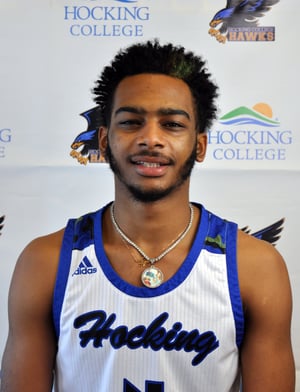 Sophomore guards Ryan Archey Jr. and Landon Sprigler – the two OCCAC Players of the Week over the last two weeks – scored 20 and 19 points, respectively. Freshman forward Tyree Robinson added 17 more.
Hocking out rebounded Rio Grande JV 44-34, with Sprigler leading the way with 10, followed by sophomore forward Jeon Tinsley's seven boards and six each from Archey, Robinson and freshman forward Nicholas Lutz.
The game was evenly played throughout the first 20 minutes, with the halftime score tied at 30-30.
The Hawks caught fire after the intermission, outscoring the Red Raiders, 49-32. Rio led early in the second half, 36-32, and the game was tied at 40 with 14:30 left in the game. Hocking then went on a 15-0 run over the next four minutes to build a 55-40 advantage. The Hawks maintained a double-digit lead the rest of the way.
Hocking will take its 3-1 record to North Ridgeville, Ohio, on Sunday, Nov. 14, for a rematch with Bryant & Stratton at 7 p.m.
B&S handed the Hawks their only loss of the season in the season opener.