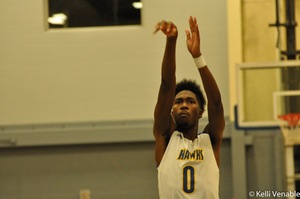 Hocking College took on Lorain County Community College on Saturday at home and fell to the Commodores 128-93.
Lorain County jumped out to an early lead and never looked back as they shot 48% from the field, 51% from inside the arc and 41% from three-point. Their largest lead of the game came in the second half when they led Hocking by 35 points. The Commodores were led in scoring by TJ Steele with 50 points and 7 assists followed by Jarred Schultz with 18, Chris Theodus adding 17, Kevin Kelley chipping in 16, and Mike Rell rounding out Lorain's scorers in double figures with 11.
The Hawks were led in scoring by Keiron Morning with 18 points on 11-23 shooting from the field. He was followed in scoring by Anthony Reid with 16 points off the bench, Bryce Mooring with 13, Darnei Hairston adding 12, and D'Andre Clay chipping in 10. Other scores for Hocking were Raysean Jones with 7, Luke Drayer added 6 points, Devonte Lash with 5, and Joe Clay contributing 4 points.
After the game Coach Matt Williamson was disappointed in his team's effort stating "I thought we played really well offensively but lacked the defensive effort to give ourselves a chance to win today."
Hocking College will look to turn things around as they travel to Dayton to take on the Tartan Pride of Sinclair on Wednesday night.