SPRINGFIELD, OHIO—The Hocking College men's basketball team evened its season record at 1-1 with a convincing 86-66 victory at Clark State Community College in Springfield, Ohio, on Wednesday evening, Jan. 27, 2021.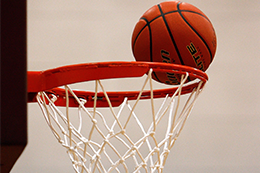 Sophomore point guard Landon Sprigler produced a rare triple-double as he led the team with 14 points, a team-high 11 rebounds and 10 assists. Sophomore guard Ryan Archey Jr. led the Hawks with a game-high 25 points, including 5-of-9 shooting from behind the three-point arc. He also tied Sprigler with a team-high 11 rebounds, completing a double-double.
All five starters scored in double figures for the Hawks, as freshman guard Keshonn Loury tallied 20 points, freshman forward Tyree Robinson scored 13 points and sophomore forward Jeron Tinsley added 12 more.
The Hawks also out-rebounded the Eagles with a 45-38 advantage. Hocking completed the game with 23 assists on its 30 baskets and only committed 9 turnovers in the victory. The defense played a strong role in the outcome, holding Clark State to 36% shooting.
This Saturday's home doubleheader against Terra State has been postponed due to a health issue at Terra State. The Hawks' next action will be at Kent State-Tuscarawas on Wednesday, Feb. 3 at 5 p.m. in New Philadelphia, Ohio.