The Hocking College Hawks softball team wrapped up its first season in school history this weekend, by splitting a pair of doubleheaders with Edison State Community College. With the wins, it lifted their overall record to 16-15. The Hawks also finished with an 11-12 record in conference play, good enough to land them in 4th place for their inaugural season.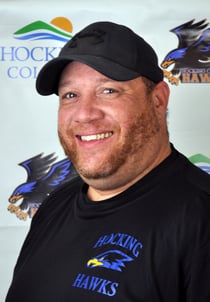 It can be a difficult task to start a program from the ground up, but Coach Kevin Lewis did a great job rallying the girls and preparing them for each game. Coach Lewis said, "I am very pleased how things ended with us this year. Being a first-year team, we faced a lot of trials and tribulations and had to overcome a lot of unanticipated obstacles. The girls bounced back well and faced adversity nicely. I can't express the gratitude I have for the players that are on the inaugural team of Hocking College. We were #2 in the country in batting average and top 5 in on-base and slugging percentage. That is something to be very proud of. We also have the #3 hitter in the country coming back for her sophomore season. I have tried to research and cannot find a team that was as successful at any level for their first year as we were this year; that is something special to be proud of. "
With the ups and downs that come with any athletic competition, the Lady Hawks were able to make a name for themselves and establish Hocking College as a force to be reckoned with, not only in the conference (OCCAC) but in the nation (NJCAA) as well. In conference play, the Hawks swept both doubleheaders against Lorain County and won at least 2 games against Bryant and Stratton, Clark State, and Edison State. They are also 4-3 in non-conference play, winning games against serious competition, such as their win against Anoka-Ramsey Community College who finished the year ranked 9th in the nation.
The Hawks used two pitchers the entire season, Erika Bowman and Andee Lester. Bowman finished the year with the most strikeouts, saves, shutouts and lowest earned run average while Lester finished the year giving up the least amount of hits, most games started and had the most wins on the year. At the plate, standout shortstop, Jadyn Mace, finished the season establishing numerous school records. Mace led the team in hits (64), doubles (18), triples (3), RBIs (43), stolen bases (5), and on-base percentage (.607), slugging percentage (.882), and batting average (.567). In fact, Mace finished the year with the 3rd highest batting average in the nation in Division II. Mace and her teammates look forward to returning to Hocking in the fall and preparing themselves for an even better second season.
To learn more about athletics offered at Hocking College email admissions at admissions@hocking.edu or call 740-753-7050.