Hocking College will add Women's Flag Football to its ever-growing athletic department in the 2021-2022 academic year after receiving a $10,000 grant provided by the NJCAA Foundation, NFL FLAG, and RCX Sports. This addition marks the 13th varsity sport offered through the Hocking College Athletic Department.
"Women's Flag football will expand Hocking College's already robust offerings and provide more opportunities for women," said Dr. Betty Young, president of Hocking College. "College athletics, like high school athletics, teaches teamwork, develops a work ethic, keeps students engaged and on a pathway to graduate and enter the workforce."
In March, the NJCAA first announced the $150,000 grant, provided by the NFL, and the grant application process to support the initiative of expanding women's flag football.
"The NJCAA Foundation is passionate about the value women's flag football brings to institutions' overall growth, the student-athlete experience, and equality across playing fields," stated Brian Luckett, NJCAA Foundation Executive Director. "This is an opportunity for women of the association to compete at the highest level and we are fortunate to work hand in hand with NFL FLAG and RCX Sports during this exciting time."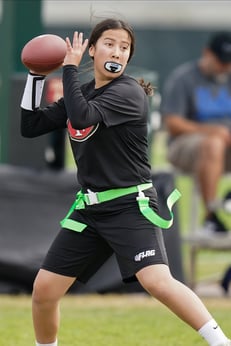 RCX Sports, the official operating partner of NFL FLAG and the NAIA women's flag football initiative, works to enhance the youth sports experience for athletes all around the world.
"RCX is dedicated to creating opportunities for all athletes to play and so that every child can gain important life skills only learned through sports," said RCX Sports CEO and NFL FLAG Executive Director Izell Reese. "Through NJCAA women's flag football, young women will not only be able to compete, but they'll also earn a valuable education that will set them up for success after college."
Hocking College has become one of 11 NJCAA member colleges to receive the grant to ignite a women's flag football program and provide opportunities.
"The NJCAA expanding NFL Flag opportunities for female student-athletes at member institutions demonstrates clearly that football is for all," said Executive Vice President of NFL Football Operations Troy Vincent, Sr. "The values, fun and competitive environment of football can be enjoyed by anyone and everyone who wishes to participate. It is exciting to see junior colleges offer NFL FLAG as a varsity sport to female athletes."
In February of 2021, the National Junior College Athletic Association (NJCAA) officially announced Women's Flag Football as an emerging sport in a joint effort with the National Football League (NFL) and Reigning Champs Experience (RCX). Hocking College is proud to announce they have been selected to grow women's flag football.
Since Hocking College will be one of the first junior colleges in the country to offer women's flag football, the team will take on a wide range of opponents stretching all over the country. Look for them to be in action in the spring of 2022 and bring home victories to Nelsonville, Ohio.
ABOUT NJCAA FOUNDATION
The mission of the NJCAA Foundation is to enhance the NJCAA national organization, student-athletes, member colleges and local communities through financial support, scholarships, program initiatives and community service.
ABOUT RCX SPORTS
RCX Sports is the premier youth-sports experiences business, running and operating leagues, camps, combines, tournaments and events.
RCX works with professional leagues, national governing bodies, sports-centric businesses and brands to reimagine youth sports experiences. RCX produces events with world-class partners including the NFL, Jr. NBA, NAIA, Rivals.com and the 2022 World Games.
RCX is committed to improving the accessibility and inclusivity of sports by enhancing the youth sports experience and creating opportunities for all athletes to play. We believe sports have the power to transform lives and that every athlete should have the opportunity to experience the value of sports. For more information, visit www.rcxsports.com.
ABOUT NFL FLAG
NFL FLAG is an NFL-licensed property of more than 1,600 locally operated leagues and over 500,000 youth athletes across all 50 states. NFL FLAG is a fun and accessible non-contact program available for girls and boys ages 5-17. Players benefit by being physically active through non-contact, continuous action while learning the fundamentals of football as well as lessons in teamwork and sportsmanship. RCX Sports is the official operator of NFL FLAG.