New Philadelphia, Ohio—The Hocking College men's basketball team traveled to New Philadelphia, Ohio, on Wednesday evening, Feb. 3, and won its second straight game, 90-69, at Kent State-Tuscarawas.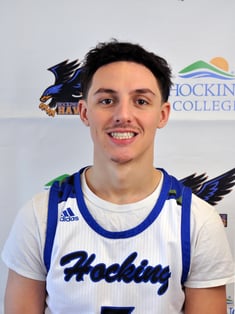 Sophomore guards Ryan Archey Jr. and Landon Sprigler once again led the Hawks scoring, both converting 10 of 16 shots from the field. Archey led with a game-high 28 points including 4-of-7 three-pointers. Sprigler — last week's OCCAC Player of the Week — notched 24 points and added a team-high nine rebounds.
Four Hawks reached double-figures with sophomore forward Jeron Tinsley and freshman guard Keshonn Loury joining Archey and Sprigler. Tinsley had 15 points on 5-of-10 shooting, including 3-of-5 from beyond the arc, and Loury had 10 points. As a team, the Hawks shot 51% for the game (35-of-69).
Tinsley and freshman forward Tyree Robinson each had three steals to lead the Hawks' total of 10 takeaways from KS-T.
The Hawks, 2-1 for the early season, were in control throughout, with a double-digit lead for the entire second half.
Hocking travels to North Ridgeville, Ohio, to play Bryant & Stratton on Saturday, Feb. 13. The Hawks dropped the season-opener to the Bobcats on Jan. 25.