Jade Cover, program manager for Hocking College's Healthcare Informatics program, has been selected as a national proposal reviewer for Healthcare Information and Management Systems Society's 2021 National Health Conference. Cover will review proposals related to data and analytics.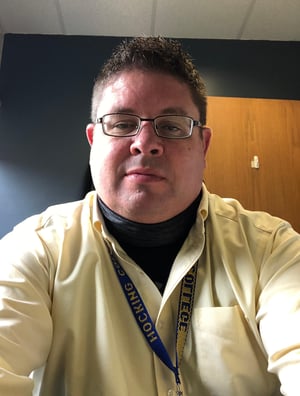 As part of the process, Cover will read through several large proposals and score them. Reviewers must be unbiased in reviewing, scoring and recommending proposals. No more than five reviewers are selected from the same organization so to be chosen is a great accomplishment.
Among the benefits of being a reviewer:
Points toward HIMSS Senior/Fellow advancement
CPHIMS/CAHIMS certification
The chance to mentor speakers through the presentation preparation process
Data and analytics are essential tools for healthcare stakeholders across the continuum of care. It can provide insight and intelligence for health systems pursuing clinical transformation while dramatically improving clinical performance aligned with the quadruple aim.
What is the HIMSS's 2021 National Health Conference?
Healthcare Information and Management Systems Society (HIMSS) is a global advisor and thought leader supporting the transformation of the health ecosystem through information and technology. The HIMSS Global Health Conference and Exhibition is the health information and technology event of the year, where professionals throughout the global health system connect for the education, innovation and collaboration they need to reimagine health and wellness for everyone, everywhere.
The conference will take place in Las Vegas from Aug. 9-13, 2021.
About the HIM Program
Hocking College offers a degree program in Associate of Applied Science in Healthcare Informatics. The HIM program provides the hands-on training needed to become a Health Information Technician in only two years.
The course can be completed 100% online.
Students in the HIM program will learn numerous skills such as:
How to use classification software
How to protect the confidentiality of each patient
How to electronically record data
How to use patient information to predict future vaccination dates
How to organize digital data
How to retrieve data
How to review medical records for timeliness and accuracy
How to assign clinical codes for insurance reimbursement
Students enrolled in the program will have the advantage of professional partnerships with Fairfield Medical Center, Holzer Health Systems and Camden Clark Medical Center. The program also prepares students to take the Commission on Accreditation for Certified Associate in Health Information Systems (CAHIM) certification exam.
For more information on this program, contact Healthcare Informatics program manager Jade Cover by email at coverj@hocking.edu or by phone at 740-753-6417.