The job search website Glassdoor recently released a list of the 50 Best Jobs in America for 2019. From that list, three Allied Health-related careers that were included require degrees that can be earned at Hocking College in Nelsonville, Ohio.
These careers and their ranking are as follows:
#2. Nursing Manager (LPN/RN)
Job Requirements:
Prior supervisory experience preferred
Knowledge of theories, methods, procedures and practices of nursing care including but not limited to G-tube/J-tube care, medication administration through G-tubes, ability to perform intermittent catheterizations, infection control and protocols and procedures.
Two years' experience working with individuals with disabilities strongly preferred
Ability to lift and support body weight of any program individual with assistance of another employee.
Possession of a valid Driver's license, a good driving record and a willingness to use personal or agency vehicle in the course of employment.
BLS CPR Certification
Computer proficiency, including ability to record and enter data into an electronic database
Effective critical thinking and communication skills
About Hocking College's LPN2RN program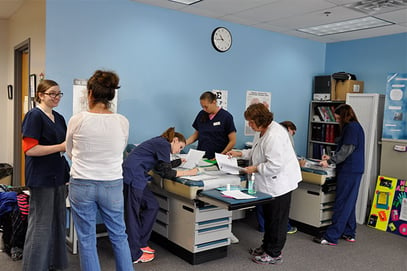 The PN2RN transitional program is designed for those who are already Licensed Practical Nurses that are seeking to further their education to become Registered Nurses. Students who successfully complete the program and pass their state-required exams will officially become Registered Nurses with a degree in Associate of Applied Science in Nursing.
After becoming an RN, a student has the opportunity to receive an increase in pay or promotion with their employer. Additionally, RNs have more responsibilities and take on more leadership roles within hospitals and care facilities compared to LPNs.
For more information on Hocking College's LPN2RN program contact Program Manager Sarah Frazier
 by email: fraziers@hocking.edu or by phone: (740) 753-6361.
#30. Dental Hygienist
Job Requirements:
An associate, and or Bachelor's Degree in Dental Hygiene.
Graduation from an accredited Medical Dental Hygiene program, with required RDH licensing.
2-3 years experience in the field preferred
CPR Certificate
Excellent communication and bedside manner
Flexible with full-time work schedule including weekends
Strong aptitude for detail, and ability to work independently, required
Strong organizational, problem solving, communication and interpersonal skills required
Computer Proficiency required
Ability to project a positive attitude around others
Flexible & adaptable nature to work in a continuously evolving environment
About Hocking College's Dental Hygiene program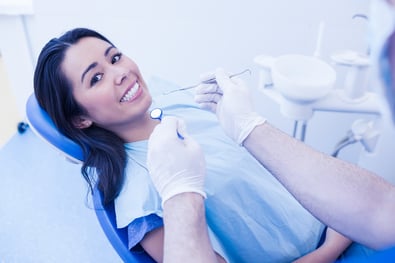 Located at Hocking College's Perry Campus in New Lexington, Ohio, Hocking College's new Dental Hygiene program offers the required training in general education, biomedical sciences, dental sciences, and dental hygiene sciences.
Students who successfully complete this program will be eligible to take their national and regional board exams and their state laws exams in order to become a registered dental hygienist.
In only two years' students can graduate with an Associate's of Applied Science in Dental Hygiene.
For more information on Hocking College's Dental Hygiene program contact Program Manager, Misti Malfe
 by email: malfem@hocking.edu or by phone: 740) 753-6460.
#37. physical therapist
Job Requirements:
Evaluate each patient's physical therapy needs
Maintain the confidentiality of every patient
Establish and revise a patient's plan of treatment and provide physical therapy treatments as ordered by a physician and in collaboration with other car-team members
Provide verbal and written home exercise or activity programs to help the patient reach their therapy goals
Identify problems and establish functional goals in collaboration with the patient and their caregivers.
Recommend necessary adaptive or safety equipment to purchase based on evaluation, equipment needs and to increase functional level and patient independence.
Order and arrange delivery of equipment as needed.
Assess and document each patient's progress, evaluation data, treatments, patient's responses and barriers to desired outcomes.
Educate patient/caregivers and other agency staff regarding the physical therapy techniques to be performed.
Supervise the duties of therapy assistants and home care aides
Provide staff in-service trainings as requested.
Participates in case conferences with home health staff to coordinate patient care, evaluate the effectiveness and outcomes of care and plan for discharge.
Attend mandatory education and in-service programs.
Adhering to employer's policies and procedures and adheres to all rules and regulations.
About Hocking College's Physical Therapy program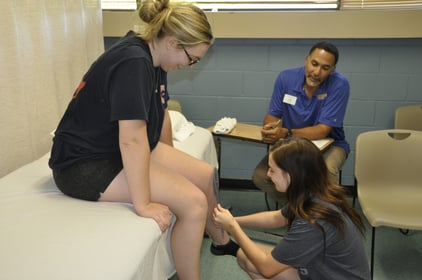 Students who enroll in Hocking College's Physical Therapist Assistant program will graduate with an Associate of Applied Science in Physical Therapist Assistant degree.
For more information on Hocking College's Physical Therapist Assistant program please contact PTA Program Manager Mary Ann Simon by email at simonm@hocking.edu or by phone at (740) 753-6404 or (740) 753-6424.
The Physical Therapist Assisting Program at Hocking College of is accredited by the Commission on Accreditation in Physical Therapy Education (CAPTE), 1111 North Fairfax Street, Alexandria, Virginia 22314; telephone: 703-706-3245; email: accreditation@apta.org; website: http://www.capteonline.org. The program's current status is probationary accreditation; for more information see http://www.capteonline.org/WhatWeDo/RecentActions/PublicDisclosureNotices/. If needing to contact the program/institution directly, please call 740-753-6404 or email simonm@hocking.edu.