One of the values Anita McInnis learned while growing up in Jamaica was to never let anything get in the way of her goals.
It was one of the basic values she says her parents taught her and her five siblings as they grew up in the Hanover Parish of the Caribbean nation.
"We were poor, but we weren't the poorest," McInnis recently said by phone from her home in New York City.
In her book "Giving Up is Not an Option: My Journey as an International Student," McInnis writes about how she "pushed through" the challenges placed in front of her to make her dream of coming to America and getting a college education a reality.
A major key to opening that reality was Hocking College.
Life in Jamaica
Education has always been important to McInnis. She sees it as a way to improve her life and that of her family.
As a teenager she was one of the first handful of people in her neighborhood to attend high school. She got her first taste of higher education at Montego Bay Community College, moving to the city to live with her sister.
After attending community college, her life began to settle down. McInnis worked for various hotels and restaurants, she started her own business — a clothing store, which necessitated traveling to Curacao and United States to buy inventory — she met her
husband Alvin. Together they had two sons, Sean and Stephen, but she writes she "wanted more."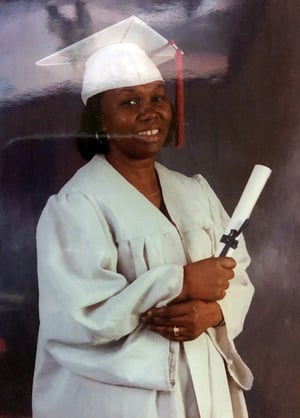 While reading the newspaper, she saw and advertisement for Western Hospitality Institute and its partnership with Hocking College.
McInnis writes that she "got very excited(,) because I felt in my spirit that this was my opportunity" to improve her life and that of her family.
After a year of classes at Western Hospitality, she was ready to transfer to Hocking College and continue her education. There was only one problem: money.
In order to get the money for tuition, rent, food and other necessities, McInnis sold her car and "everything I could get my hands on because I really needed to have some money to pay for at least the first three semesters."
Coming to America
In January 2000, with all the money she could muster on hand, McInnis packed up herself and her two sons and journeyed to New York City where her husband had been living for about a year.
New York was where McInnis began to encounter her next roadblock: balancing her family commitments with the demands of college.
"I knew I was not going to be able to make it without my kids," McInnis said.
She and Alvin decided their oldest son Sean would stay in New York while Stephen, then three, made the more than 14-hour bus trip to Ohio with his mother to live in Nelsonville.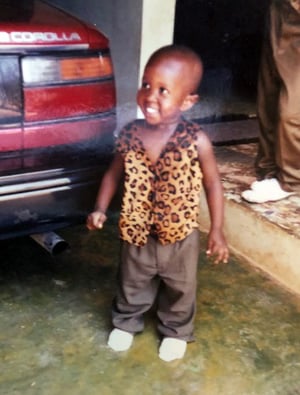 Almost immediately, McInnis began to feel the stresses of being both an international student and a non-traditional student. "I struggle to find a word to describe that feeling," McInnis said.
On the first day of class, unable to afford childcare for Stephen, she took the toddler with her only to be told by the instructor that the three year couldn't be in the classroom.
"I didn't have a clue that there was anything wrong with bringing Stephen to the class," McInnis said. "Back then I thought (the instructor) was mean, but I realize now what he was saying."
Friends, who were at that time still strangers to McInnis, took care of Stephen while she was in class.
"I don't know what I was supposed to learn in that first class," McInnis said. "I was just thinking about my child."
After one semester at Hocking College, Stephen went to live with Alvin and Sean in New York, leaving her without any family around her, and she began questioning whether focusing on her education was the right decision.
As classes continued the number of people she could call friends grew.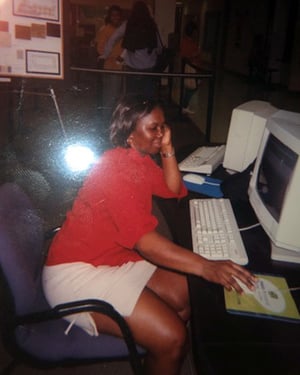 In her book, McInnis recalls a particularly stressful final exam that required her to use Microsoft Access.Computers have always been a trouble spot for her, even to this day. She writes that she left the classroom mid-exam, telling the instructor she couldn't do it. She went to a nearby restroom and cried. She was quickly surrounded by classmates reassuring her that she could do the exam. She wrote:
"All of a sudden, I remembered all the sacrifices I had made to be there: leaving my family in New York, leaving my country, starting something totally new. It was difficult, but I had made it through not having enough to purchase all of my course books or even enough food to eat! I dried my tears and thanked my friends. I told them to leave - that I would be in the class soon. One of them, by the name Shanda who was like a daughter to me, stayed with me until I got myself together."
Early on in her Hocking career, she began attending First Baptist Church of Nelsonville. That growing circle of friends from the college and the church showed McInnis that even though she was starting a new life in a new country, she wasn't alone.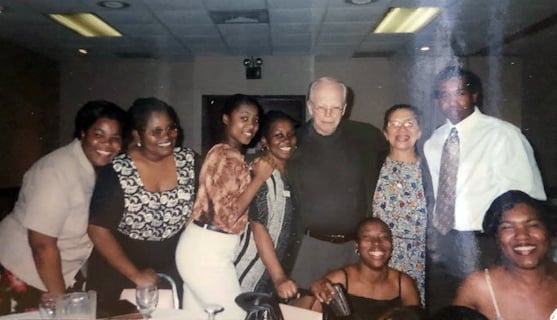 "The people were so open," McInnis said of the First Baptist Church. "They believed in us (international students). Why would I want to give up?"
She said the congregation held a graduation party for the international students who attended church and gave each of them an envelope of money as a gift: an unexpected gesture she treasures to this day.
After Hocking
After graduation McInnis reunited with her family in New York City. There she worked in hotels, restaurants and hospitals while getting her bachelor's degree in business management.
Finding a job after getting her green card wasn't easy for McInnis. She worked odd jobs and part-time. She went back to school again to become a certified nursing assistant, but found she didn't really like the work.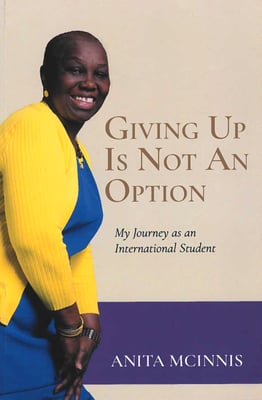 Now, a licensed marriage officiant, a pastor and wedding cake baker, McInnis is continuing her education again. She plans to finish her licensure in pastoral counseling this year.
"Giving Up is Not an Option: My Journey as an International Student" is available for purchase now.